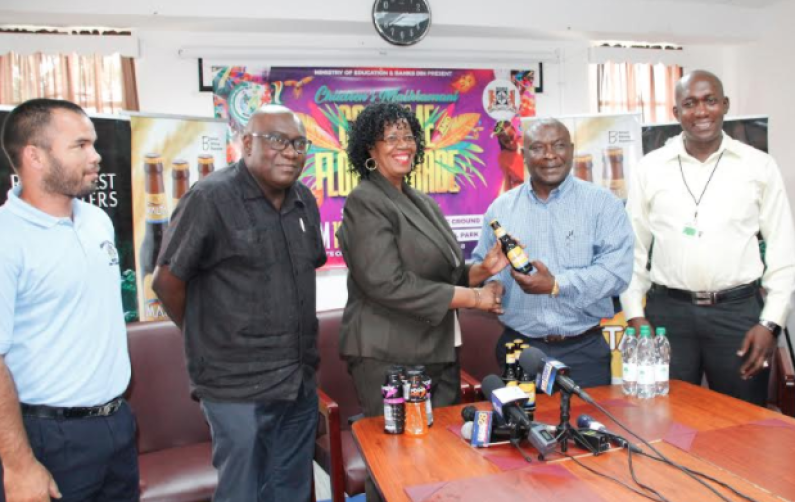 Local conglomerate, Banks DIH Limited, is continuing with its support of cultural activities.
The company is now the official sponsor of the National Children's Mashramani Costume and Float Parade. The event will be held through the streets of Georgetown on Saturday, February 17th, 2018.
At a midday press conference, Chief Education Officer, Marcel Hutson, said the Ministry of Education is pleased to be associated with the beverage company, adding that Banks DIH has been one of the foremost partners in terms of financial assistance towards a number of ventures undertaken by the Ministry.
He added that the Children's Mashramani is just another opportunity to create rounded children in so many areas such Dance, Calypso, Poetry, Masquerade and Physical Display.
The Children's Mashramani activities are being organised by the Unit of Allied Arts within the Ministry of Education.
Administrator for that Unit, Ms. Lorraine Barker-King said Banks DIH will see value for its money when the children take to the street on Saturday to display their costumes along the route from the Parade Ground to the National Park.
She appealed for everyone to come out and witness the spectacle and be a part of the activities as our children continue to celebrate Guyana's 48th Republic Anniversary.
Public Relations Officer of Banks DIH, Troy Peters, told the media that Banks DIH has increased sponsorship for the event this year.
He also announced that the sponsorship package will continue in the future as the company looks forward to seeing the costume parade grow from strength to strength. The sponsorship being given towards the event this year is in excess of $2M.
Over 50 schools will be participating in the children's costume and float parade.