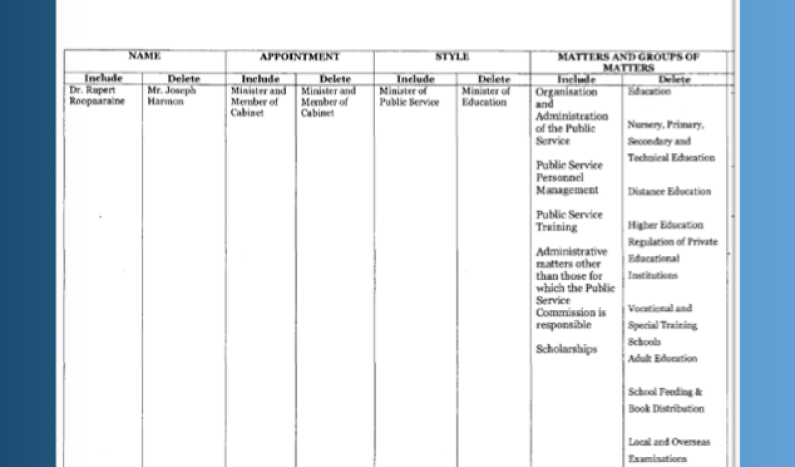 The opposition People's Progressive Party on Monday rejected answers from Minister of Public Service, Dr. Rupert Roopnarine, as the consideration of the budget estimates started.
The PPP argued that the Minister was not properly gazetted to provide answers on the government's proposed spending for Public Service Management in 2018.
But a quick search of the Official Gazette by News Source uncovered that there was, in fact, an official gazette publishing on Thursday, August 31st in which the government gave effect to the new Ministerial assignment and responsibilities which included but were not limited to Dr.Roopnarine.
State Minister Joseph Harmon had briefly argued this point in the Committee of Supply even as Opposition Member, Gail Teixeira insisted that Roopnarine could not answer questions related to the spending under public service management.
"There is no hard copy or online gazette," she said, while claiming that the opposition was being forced to ask questions to a person who is unauthorized to answer.
But the search of the online Gazette proved differently.
The law stipulates that when a Minister is assigned to a Ministry it must be gazetted to reflect same. The opposition's concern over Dr. Roopnarine's reassignment accompanied concerns over monies set aside for payment of staff under public service management.
With a revised total of $98 million for 2017, the PPP had questioned why the government was asking now for $137 in 2018. Dr. Roopnarine said he was advised that the monies are for the payment of staff and salary increases including "gratuity, vacation allowance and so on."
But the opposition argued that what the government was in essence doing was anticipating an unannounced increase in 2018. Questions were being fielded by opposition MPs Teixeira and Juan Edghill and insisted that the allocation was rather odd and seems problematic. The government has promised to lay over more information to the opposition at a later date in a bid to offer more clarity. The budgeted sums were nonetheless approved.
Earlier this year Dr. Roopnarine who previously served as Guyana's Education Minister was reassigned as the Minister of Public Service by the President and given new responsibilities under his new portfolio.