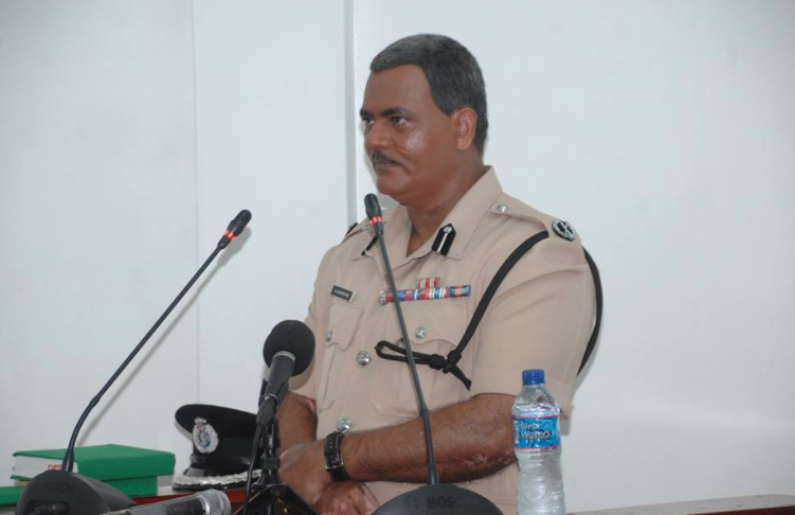 Assistant Police Commissioner David Ramnarine on Friday reappeared before the Paul Slowe Commission of Inquiry into an alleged assassination plot against the President and denied assertions that he is more interested in a promotion than a proper investigation into allegations of the plot.
Ramnarine was recalled at the request of Police Commissioner Seelall Persaud's Attorney, Glenn Hanoman.
The Assistant Commissioner had previously told the Commission that he does not believe a proper investigation was carried out and that it was compromised because of the conduct of senior police officers.
But Hanoman suggested that this opinion was given because of a personal problem Ramnarine has with Commissioner Persaud and Crime Chief, Wendell Blanhum.
"It is not true that you formed that opinion because of a malice against Mr Persaud and Blanhum?" Hanoman asked, to which Ramnarine responded in the negative.
But despite his response, Hanoman claimed that Ramnarine had reason to lie against Blanhum and Persaud. He said that Persaud had initiated several complaints at the Office of Professional Responsibility for Ramnarine over his conduct while acting as Police Commissioner.
Those complaints addressed the granting of firearm licenses by Ramnarine and his involvement in a murder investigation.
Ramnarine told the Commission that although those investigations were conducted none of them found him to be at fault or acted unprofessionally.
He said he issued more than 100 firearm licenses, 70 of which were granted to security services and others as replacements, to police officers and upon the instruction of an authority senior to him and who is empowered to do so.
Asked whether he was upset with the actions of Persaud and had an ax to grind, Ramnarine said he was merely surprised.
Hanoman, however, did not accept the answer and continued to accused Ramnarine of ill will.
"You had reason to castigate Commissioner Persaud and you believe that it would help your chance of becoming Commissioner of Police," Hanoman told Ramnarine to which he again expressed shock.
The Assistant Commissioner said he has aspirations of becoming Commissioner but that's no reason to "bad talk" anyone.
"I am putting it to you that you are sucking up to the powers in order to try and become Commissioner," Hanoman continued to insist to which the Assistant Commissioner asserted his professionalism.
Persaud's Attorney insisted that Ramnarine's opinion was formed for the benefit of the Commission, was not at the time of the investigation.
The Assistant Commissioner training over his 27 years in the force was also assessed.
Under cross examination, he admitted that he was never a detective or was part of any induction course that detectives are required to sit.
Ramnarine also admitted that he never investigated any matter as a detective and never received anything basic training in investigative techniques.
To this end, Hanoman argued that the opinion he offered to the Commission is not from a background of an expert investigator or based on experience.
"You are not trained and have little practical experience as an investigator," the Attorney added.
After more than an hour, Hanoman said he was not satisfied that he had gone through Ramnarine's testimony in chief carefully enough to complete his cross examination