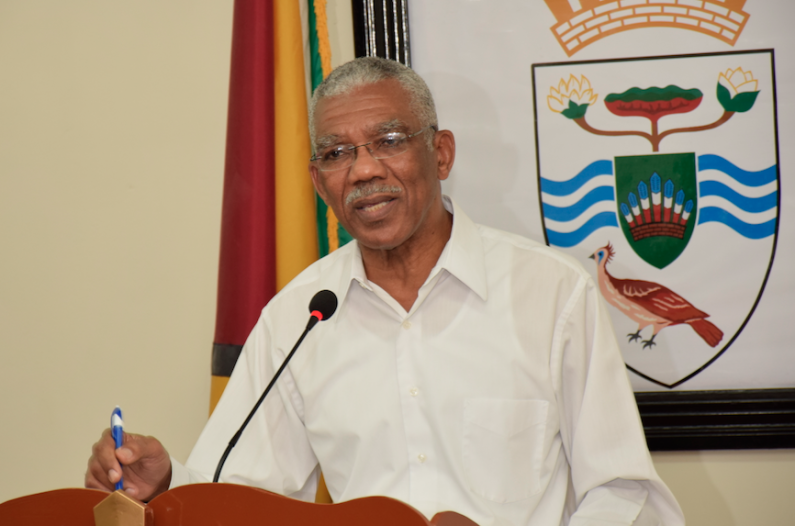 by Kurt Campbell
President David Granger has expressed satisfaction with the performance of his coalition government as it observes its first year in office.
Today, May 11, 2016, marked exactly one year after Guyanese voted in General Elections which ended the 22 year rule of the People's Progressive Party and resulted in the election of the six party APNU+AFC coalition government.
During a recording of the weekly Public Interest tv programme,  the Head of State said "the dust has settled but the mud hasn't been removed".  He described his first year as a "good one."
Mr. Granger said he feels very confident that the government was able to meet many of its obligations over the last year.
"We now have a muscular Cabinet of fifteen Ministers, which is a reduction of what was there before. I am convinced that Cabinet members know their roles and are performing quiet well," he said.
He also spoke glowingly of the progress his government has made in reducing crime, although it continues to come under criticism over the current crime rate.

"Piracy is almost unheard of now. There is a lot of interpersonal violence, sometimes murderous husband and wife relations but generally we have been able to bring the murder rate down," he added.
The retired Guyana Defence Force (GDF) Commander insisted that his achievements and that of his government in the area of crime fighting are achievements that one should be proud of.
"We have moved the Commander of the Hinterland Division to Bartica and he now has a better handle on crime. We have established a National Security Committee that meets weekly," the President said.
Mr Granger believes the mood of the country is good. He said feedback seems to suggest that citizens are happy with changes. He said his government's move to hold Local Government Elections after almost two decades was also a major achievement.
"People feel that the bad days are behind them and better can come."
When asked whether he would have changed any of his decisions or done things differently, the Head of State said he would have liked to do more in the field of education and job creation.
"I want to keep more children in school, which has not been fully achieved and the economy has not been able to sufficiently produce new jobs," he added.
This is a matter he intends to correct in the coming year. "I believe there is a lot more scope for getting young people and women into agro processing and enterprise."
He said too that there is the impression that much more needs to be done on the environment and hinted that changes can be expected there.
While the coalition government celebrates its one year in office, many political observers are calling on the government officials to return to the common man and ensure that their concerns are addressed.
Many young campaigners and supporters of the coalition have expressed frustration of not being called upon to work with the government to achieve many of its goals.
There are also calls for the government to revamp its entire public relations system, which appears lagging behind everything in many instances.