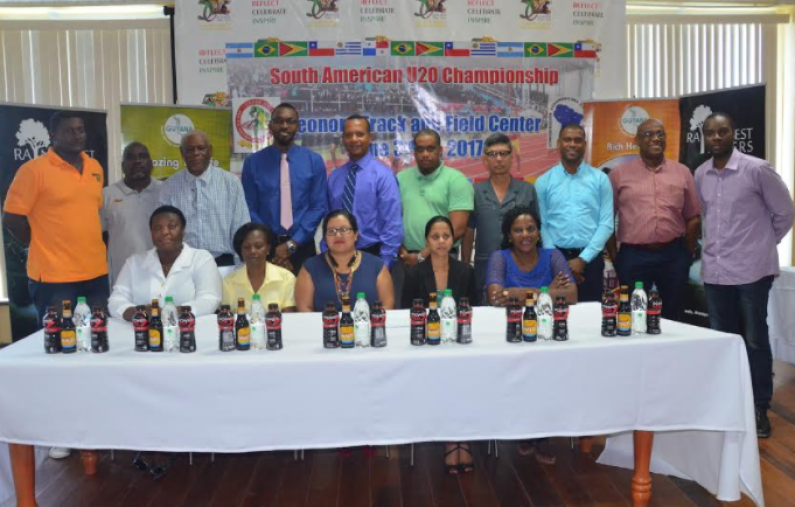 The 42nd edition of the South American Junior Championships which will be held in Guyana on June 3 and 4, 2017,  will see over 350 under-20 athletes descending on these shores.
Speaking at the launch at the National Resource Centre in Georgetown, President of the AAG, Aubrey Hutson, highlighted that his association will be ready to host, and the success will be determined by the efforts of all stakeholders involved in the sport.
The event will be held at Guyana's only synthetic track facility – the National Track and Field Centre (NTAFC).
As it relates to the preparation of the athletes who will represent the home land,  Coach Lyndon Wilson, is currently training a squad of 65 athletes, and he is confident that "everything is on tack".
The athletes are currently being encamped every weekend to train collectively; the final team is expected to have "over 30 athletes."
They will all get a chance to compete before the Championships, when they perform at a local meet set for 27 – 28 May.
In terms of preparation for the event, Hutson noted that while the Leonora venue is not fully complete, the AAG has ordered cages (which are being locally manufactured) for the discus and hammer throw events, extra hurdles as a precaution of others being broken as well as the construction of Pole Vault pits.
Meanwhile, Director of Sport, Christopher Jones, shared the importance of such an event coming to the shores of Guyana.
"We recognise that if we want to give every opportunity to represent this country that first and foremost the support must be given to them, to have international tournaments of this stature being hosted here in Guyana adds to just beyond having the tournament here in Guyana. It's an opportunity to showcase and its tourism package, with E-Governance onboard it provides the opportunity for us to take Guyana throughout the world," Jones noted.