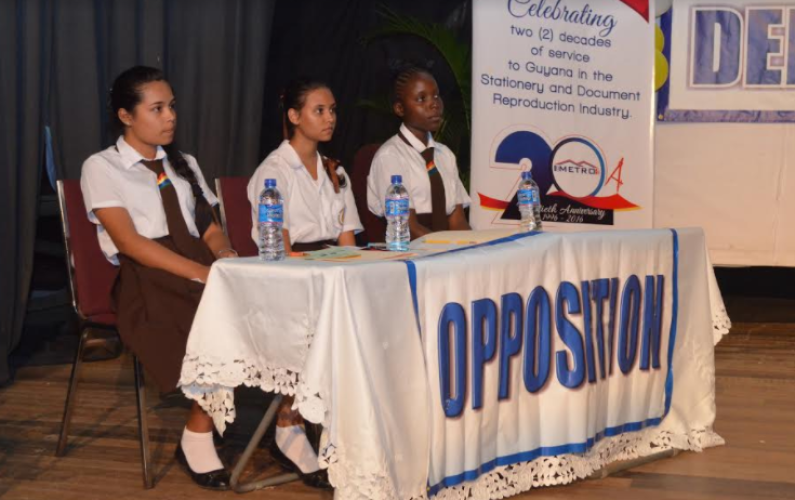 The curtains came down on the JOF Haynes Memorial Inter-Secondary Schools debating competition today, with round three of the national competition. The Annandale Secondary School emerged victorious.
The Annandale Secondary School argued against the moot 'Dysfunctional families are a direct result of weak parenting skills' whilst the New Amsterdam Multilateral Secondary proposed the moot.
Assistant Chief Education Officer (CEO), Ministry of Education, Leslyn Edwards-Charles presenting an overview of the debate explained that it is an annual event organised by the Secondary sector of the Ministry of Education.
The event was  held at the Theatre Guild Playhouse. Deputy Chief Education Officer, Donna Chapman, Director of the National Centre for Educational Resource Development (NCERD) Jennifer Cumberbatch, Manager, Metro Office Supplies, Lincoln Callender and students from several schools across Guyana were present.
Edwards-Charles explained that the competition was initiated by JOF Haynes, an outstanding scholar who started life as a school teacher before moving on to become one of the most brilliant and eminent scholars of his generation. She added that this competition is designed to involve as many students as possible.
The Assistant CEO defined a debate as "a uniquely beneficial educational tool in part because of the value of the argumentation theory itself." She explained that the creation of an argument is one of the most complex acts and involves research, organisation of data, analysis of data, synthesis of different kinds of data and evaluation of information for a conclusion.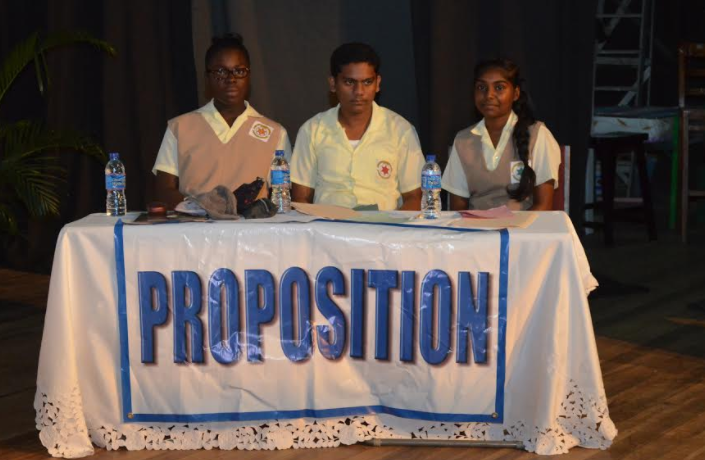 "It is clear that two persons armed with information may choose to organise and present that information resulting in two or more arguments leading to different conclusions. An argument requires debaters to concur differing methods of decision making," Edwards-Charles explained.
According to the Assistant CEO, during the Easter term, the best debating teams at class level will debate with other classes, and schools chose their members to represent them at the JOF Haynes Entra Regional competition. In the course of April to July, regional competitions were held in each education district and the winning school represented the education district at the national level.
This national competition commenced on September 22, 2016 with five debates in round one. Region One was represented by the Santa Rosa secondary, Region Two, by Anna Regina Secondary, Region Three, West Demerara Secondary, Region Four, Annandale Secondary, Region Five, Novar Secondary, Region Six, New Amsterdam Multilateral, Region Seven, Three Miles Secondary, Region Eight, Paramakatoi Secondary, Region Nine, Sand Creek Secondary, Region Ten Wismar Christianburg Secondary and Georgetown, by Brickdam Secondary.
The JOF Haynes Secondary Schools debating competition was initiated in memory  of the Chancellor of the Judiciary Joseph Oscar Fitzclarence Haynes O.R., S.C  in 2014 who had a brilliant career as a  teacher and  both as a practicing lawyer and as Head of the Judiciary. (GINA)