Banks DIH's Chairman, Clifford Reis, has been awarded Sweden's second highest national award and title, "Commander of the Polar Star"  who recognition of his exemplary service to both countries. Mr. Reis has served as the Swedish Honorary Consul in Guyana for several years.
The new Honorary Swedish Consul is Banks DIH Executive Shabbir Hussain.
At a Special Ceremony on Wednesday, Reis said that his service and role as honorary consul broadened his horizons from his initial expectations and "made me see the job of honorary consul in new and different ways. This is certainly a most rewarding, enlightening experience and for this I am grateful and appreciative to the Swedish government and all who have made this possible".
He also offered his congratulations and support to his replacement, and his support. He further described his award, as a "changing of the guard" noting that the emblem and flag of Sweden will remain in Thirst Park, Banks DIH's headquarters, and be in safe hands for the foreseeable future.
Prime Minister Hinds expressed his strong appreciation, on government's behalf for the assistance that has been received from the Nordic country, especially in the areas of maritime training.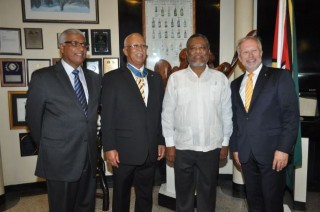 Swedish Ambassador Claes Hammar in brief remarks, lauded Hussain's distinguished career and "his strong dedication to the youth in Guyana".
He said, "I was very impressed to hear about that when I was here in April. Mr. Hussain has done a lot to help young people here to move away from activities that they should not be involved in, and into things like music and culture and such things. I think that says a lot about his dedication to his country and its people."
Hussain thanked the governments of Sweden and Guyana for accepting his nomination to the post. "At this stage, I pledge to do all in my capacity to provide the best possible service in order to benefit, both my country Guyana and Sweden, and also to work closely with other honorary consuls who are representing their countries in Guyana. It will be the greatest privilege to discharge my duties with excellence" by executing all that is required of me, and with a passion for success, and to deliver all that is necessary."
Sweden has been instrumental in aiding Guyana and other Caricom member states in the areas which include scholarships, surveillance applications, solar energy, and environmental monitoring, climate change, the United Nations Arms Trade Treaty (UNATT), and the Post 2015 Development Agenda.
Filed:  26th September 2014