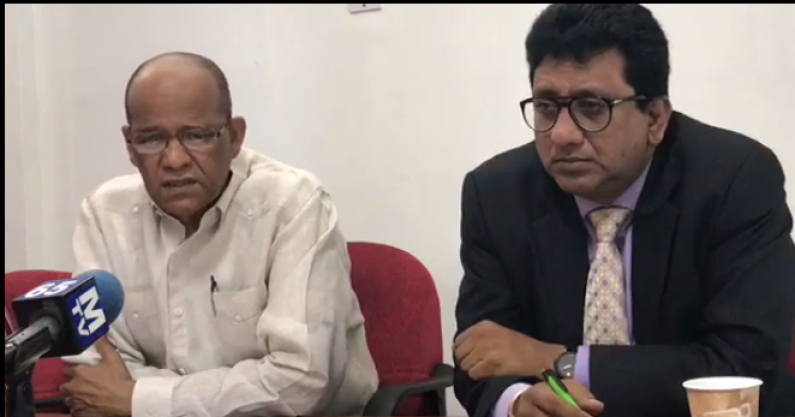 Member of Parliament and Former Minister with responsibility for Security under the People's Progressive Party government, Clement Rohee has trashed the coalition government over its strategies to deal with the security challenges in the country.
Rohee told a news conference on Wednesday that whatever the government's strategies are, those plans and policies, in his estimation continue to fail.
He said the government came to office boasting of having a solution to the crime and drug situation which persisted under the PPP rule, but has failed to bring the situation under control.
"My conclusion notwithstanding the rhetoric and talk, fanciful language about solutions to the crime and drug situation […] the government which came into office with a grand solution to the crime and drug situation has proven itself unfit," he said.
The former Minister believes that the government lacks the "fit and proper" persons within the Cabinet to deal with the situation.
President David Granger himself is a former Army Commander and has within his government several retired Police Officers and GDF Officers.
Rohee spent close to 30 minutes reminding of instances of gun crimes, prison riots and escapes, gun smuggling and drug trafficking that have occurred over the last two years under the APNU+AFC government.
He said it was a rather unfortunate situation but said the government must first accept that it has failed in this regard.
Placing emphasis on internal and external drug trafficking situation, Rohee said the PPP does not accept the government's claim that it is a thing of the past.
"Recently a huge amount of drugs was found in the Poomeroon river, then we had drugs found in gas cylinders and we still have drugs being exported through the CJIA and firearms illegally being imported in barrels and we know the links between drugs and firearms," he said.
The former Minister said the Opposition Party is not proud to know that Guyana continues to be a country where trafficking continues and again called on the government not to ignore the reality.
Rohee maintained that as far as the PPP is concerned the government needs to do more to deal with the crime situation in the country.
Guyana saw some of the deadliest criminal gangs rise up and execute persons under the PPP government. The murder of over four hundred young men during the 2005 crime spree remains an unsolved mystery, but drug lords, who openly spoke about their support for the PPP government, were fingered in those executions.