Opposition Leader Bharat Jagdeo today expressed his disappointment in the Memorandum of Understanding signed by President David Granger and the Prime Minister of Trinidad and Tobago Keith  Rowley.
At his weekly press conference today, Mr. Jagdeo said he is not against the signing of the MOU and has no problem with Regional Agreements, he believes Guyana needs to wholeheartedly have its interest at the forefront of any agreement.
The opposition Leader said, "We will support any effort to bring countries closer together but we are also a sovereign state and we have to; in the frame work of the Treaty of Chaguaramas and the agreements governing the single market and economy; we have to look out for our interests too, and when those interests are treated, our interests; that is Guyanese National Interest are downgraded by other countries using excuses for not complying with the Treaty of Chagauramas or the trade agreements that govern our free trade area. Then we have to stand up for Guyana."
He said that he expected Guyana's government to protect the interest of the people but he believes it has failed to do so.
"The President said that there was no sell out, and that seems to be his major preoccupation. 'There is no sell out', who goes to sign an agreement and the defining characteristic of that agreement to the people of your country is 'there is no sell out', we have to stop talking and start doing and you're setting up a body to do more talks", Jagdeo said.
He also expressed his disappointment in the focus of the MoU being mostly about Energy.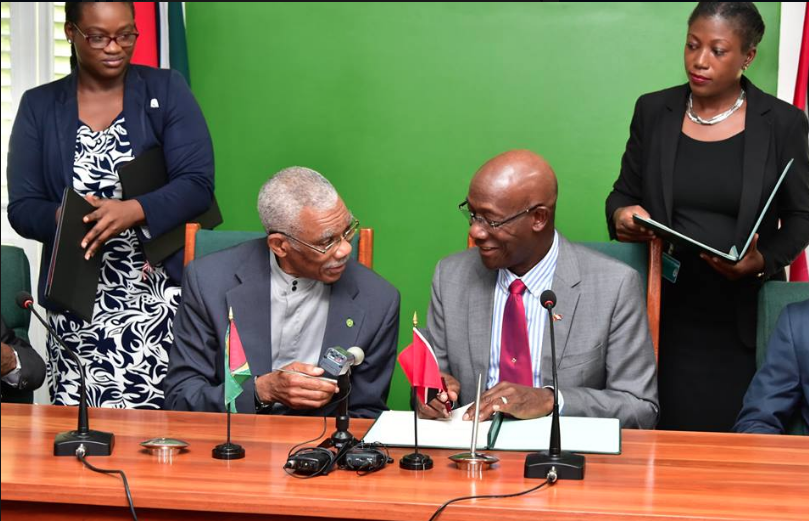 President David Granger told reporters after the signing yesterday that Guyana and Trindad and Tobago have always shared good relations and the signing of the new Memorandum of Understanding will only strengthen that relationship.
"We are confident that by collaborating, we will be able to combine the natural resources of Guyana with the entrepreneurial expertise, capital and investment from Trinidad and Tobago. So for both of us, it is a win-win situation and I would say that for the Caribbean community as well, this is a significant step in making the Caribbean community stronger", the President said.
President Granger also reminded that Trinidad and Tobago has always supported Guyana in its rejection of the the territorial claim by Venezuela of Guyana's Essequibo region.