Residents of Guyana's Capital City, Georgetown are being promised a more reliable power supply accompanied by a reduction in power outages when a new energy management system comes on stream by 2020.
The Government of Guyana and the Government of Japan signed the Grant Aid documents on Wednesday for the project: "Introduction of Renewable Energy and the Improvement of Power System."
The objective of the project is to improve efficiency of the power system by enhancing substation equipment and distribution lines in the city of Georgetown.
There will also be the installation of a PV system and energy management system at the headquarters of CARICOM.
Chief Executive Officer of the Guyana Power and Light, Albert Gordon is confident that the new system will help the power company to reduce the number of outages.
With several projects geared towards this, Gordon explained that this project will help the cause.
"Our top priority as we said is to reduce the number of outages and this particular project will help in terms of improving reliability and losses also improving voltage levels. But it is part of a set of projects we are implementing."
 Vice President and Minister of Foreign Affairs, Carl Greenidge and Ambassador of Japan to Guyana, Mitsuhiko Okada signed the agreement on behalf of the two countries.
The project is being executed at a cost of US$16.5 million.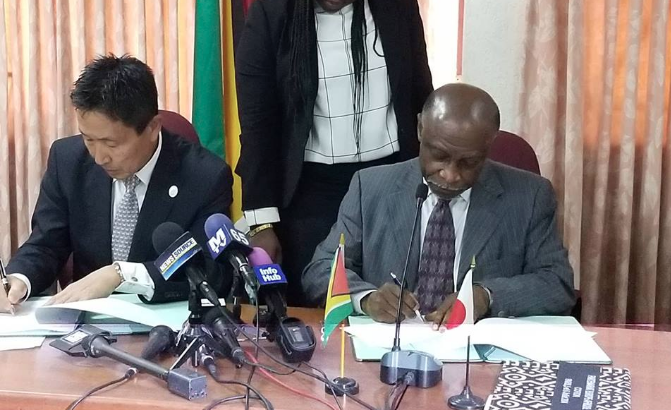 It is expected that by 2023, transmission loss will be reduced to about 1,600,000 kWh/year through the provision of substation equipment and distribution lines.
The macro accomplishment to be derived is an improvement in the efficiency of the power system.
Minister Greenidge commended the timeliness of the contribution by Japan and said it accords well with the government's development trajectory.
He thanked the government and the people of Japan for the Grant Aid.
Japan also made its first donation of 4716 LED street lamps from a total of 10,865 to the Ministry of Public Infrastructure.
Minister Annette Ferguson was on hand to receive the lighting equipment.
The total cost for the equipment stands at US$1.3 million.
The Minister said areas throughout the country have been identified for the installation process to begin, adding that lighting will be provided to several communities that were without street lights for several years.
Ferguson believes the gesture will lend to ensuring safer roads and greater public security.