The Opposition today took its concerns over the bribery allegations made against the Vice President to the Office of the President in a protest, which called on the Vice President to demit office.
The small group of protesters braved the rain with their placards as they called for a fully independent probe of the allegations.
The Vice President has denied the allegations and the President has dismissed the calls for an investigation of the allegations, making it clear that the Vice President has his full support.
Opposition Chief Whip in Parliament, Christopher Jones said the claims made by Chinese businessman Su Zhirong in the Vice News investigation cannot be dismissed. He said there needs to be a proper probe.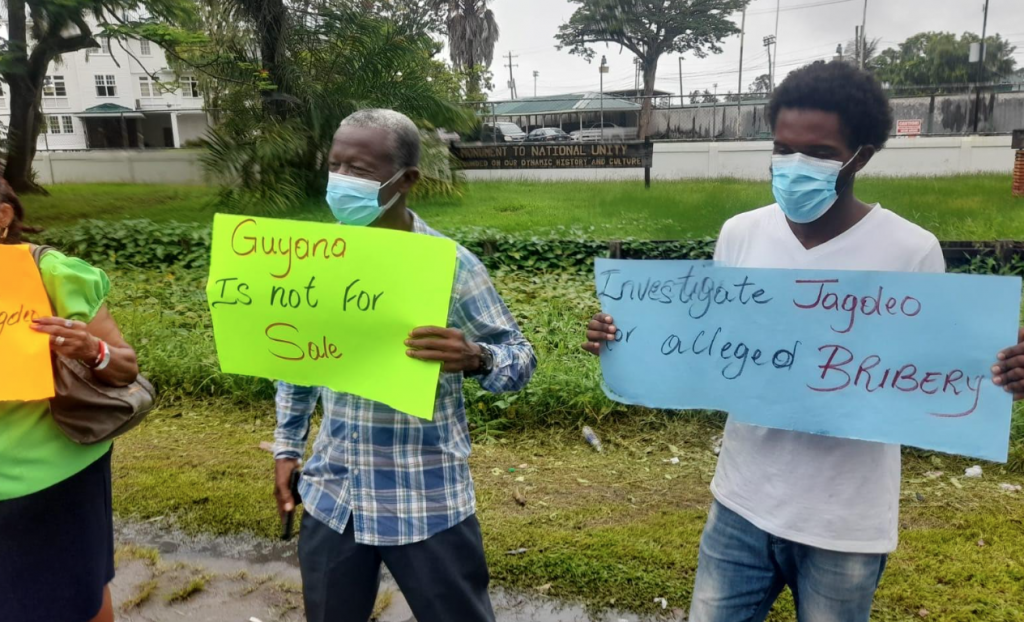 "It is the most damning revelation, it is the most damning allegation and we have to be serious as a country. Guyana is now known globally, Guyana is now an oil-producing country and you have people from far afield who want to invest in this country and they will google and search and they will google Guyana and among the things that will pop up in Guyana, you will see Guyana for sale and when they listen to that documentary that says that the VP of the Co-operate Republic of Guyana is involved in corrupt practices in which he takes bribe in order to get people to get business and contracts in this country and that will serve as a deterrent to investors" Member of Parliament, Christopher Jones said.
The Member of Parliament echoed the views of the Opposition Leader that the Vice President should demit office to allow an investigation of the claims.
"The public pressure has to bear on the PPP/C and we have to continue to involve the international community because as we mention before Guyana is global, Guyana is international and once the international community is involved and Guyanese and citizens alike come out and protest and voice their disgust, it will bring pressure on the administration that they will have to ask Bharrat Jagdeo to demit office, but if we continue to remain silent, that will not happen", Jones warned.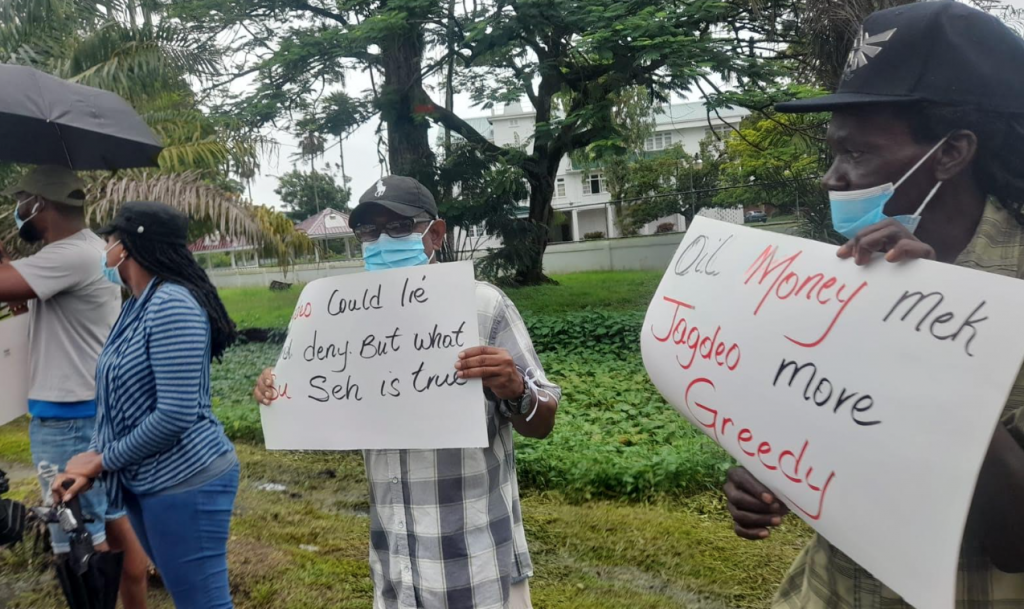 Guyanese community alike come out, picket, protest voice their disgust, it will bring pressure in the administration that they will have to ask Bharrat Jagdeo to emit office," Jones said
Another Opposition Member of Parliament, Tabitha Sarabo-Halley said there are serious questions that remain following the Vice News investigation.
"The fact that he just passes it on to Su and says Su has my full support, what does that mean. Su handles all the agreements. What agreements? Su is not in Government, what agreement is Sue handling for who and for what. Those are the questions that should be answered", Sarabo-Halley said.
She said while the Vice President continues to deny that he is involved in corrupt activities, concerns remain especially as Guyana continues to lose ground on the international corruption index.
"When the man said that he was trying to get Jagdeo to decide whether or not he is going to take the bribe, Jagdeo did not leave him at that point and say you know what, what are you talking about, I am not interested in this, this is not what I am about, this is not what I came here for. What he did, he said Su will handle that. That suggests that something is going on", she said.
The Vice President has said his hands are clean and there was nothing revealed in the Vice News investigation that can pin the corruption claims on him.