More than a year after the US Government formally recognised the Venezuelan Opposition Leader as the country's interim President, the President of Venezuela, Nicholas Maduro has not budged from his position and appears to be strengthening his hold on power in the neighbouring state.
The US Government has been stepping up its calls for Mr. Maduro to leave office.
US Secretary of State Mike Pompeo, who is visiting the countries that border Venezuela, during a press conference this morning here in Guyana, reaffirmed the US Government's position that the Venezuelan leader needs to demit office.
"We know that the Maduro regime has decimated the people of Venezuela and Maduro himself is an indicted narcotics trafficker and this means he has to leave. For the people in Venezuela to have the democracy that they need, the Cuban security forces must go and Maduro must leave", Pompeo told reporters in Georgetown at a joint press conference with Guyana's President Irfaan Ali.
In March of this year, the US government formally indicted the Venezuelan President on narcotics trafficking charges and issued a wanted bulletin for his arrest.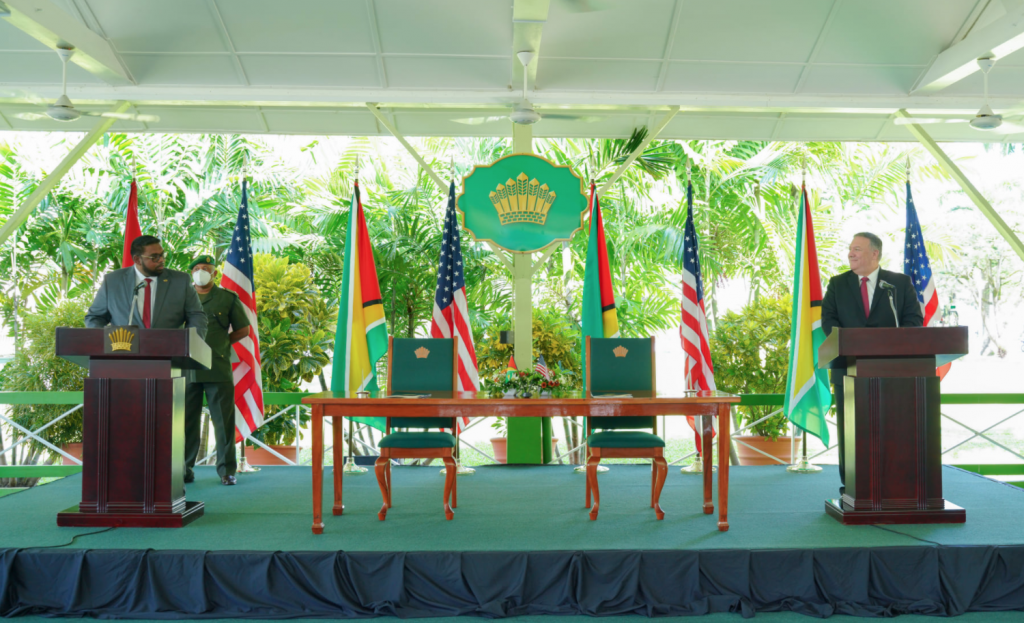 Still, the Venezuelan Leader continues to hold on to power even as an economical crisis has forced hundreds of his citizens into Guyana seeking refugee status and thousands more into Brazil and Colombia.
The US Secretary of State today praised Guyana for taking in the Venezuelan refugees and announced a US$5million donation to Guyana to assist the Venezuelans who have sought refuge in Guyana.
While Guyana maintains its position not to interfere in the internal affairs of Venezuela, the country has supported the positions of the Organization of American States and the Lima Group, which have both been pressing for regime change in Venezuela.