The Organisation of American States, is once again lashing out at the Nicolas Maduro government in Venezuela over human rights abuses and what the OAS now considers, a full dictatorship.
In a statement on Tuesday, the OAS focused on the move by the Venezuelan authorities to have civilians face military justice.
"Venezuela´s civic-military regime represents the worst of every dictatorship. That includes tyrannical control over political freedoms and the basic guarantees of the people, the elimination of the powers of the branches of government of popular representation, political prisoners and torture, starting with the armed collectives, a kind of fascist blackshirts, with orders to attack civilians during protests", the statement noted.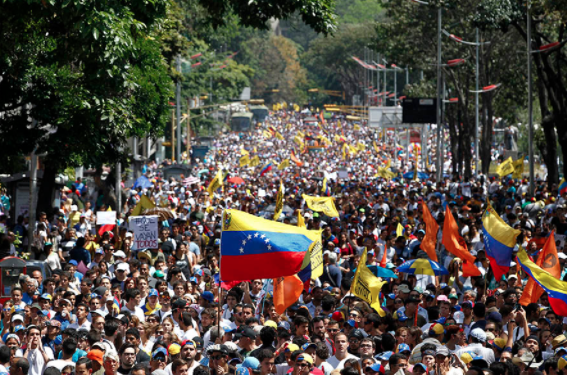 In the strongly worded statement, the OAS noted that "the accusations of military prosecutors to civilians is absolute nonsense in juridical terms."
The body said that in Venezuela, the rule of law does not exist even in appearance and the accusations of crimes of vilification and instigation to rebellion, as well as other categories of a similar nature, are part of a reactionary discourse devoid of legal grounds applied against demonstrators.
"The reality is that they simply serve the purpose of depriving peaceful protesters of their freedom".
When a government considers that its people are a threat to its continuity it is because it is a government whose strategy is to continue without the people and on the basis of the use of force."
According to the OAS, the group of people who hold power in Venezuela has no right to inflict the harm and damage it is causing on the country and the hemisphere.
"This chain of command has no right to persecute, has no right to imprison, to intimidate and ultimately, destroy the nation of Venezuela and to destabilize the region, shielding itself with fantastic imaginary conspiracies and neglecting its responsibilities. This dictatorial criminality of applying military justice to civilians will not have impunity."
The OAS believes there should be general elections called in Venezuela since the country may have reached the point of no return.
"We have reached a point from which there is no other return than that of immediate general elections, so the people of Venezuela can express themselves and return democracy to the country", the statement said.
The body which is made up of countries in South, Central and North America is convinced that basic rights and guarantees of due process no longer exist in Venezuela from the moment a civilian is forced to appear before a military court.
"The governments of Latin America have experienced this in the past, we have fought against impunity and we have said "Never again" to dictatorship and repression. From the OAS we have generated mechanisms to preserve and protect democracy in each and every member state. We cannot remain silent in the face of such obvious abuse of the basic human rights of Venezuelans."