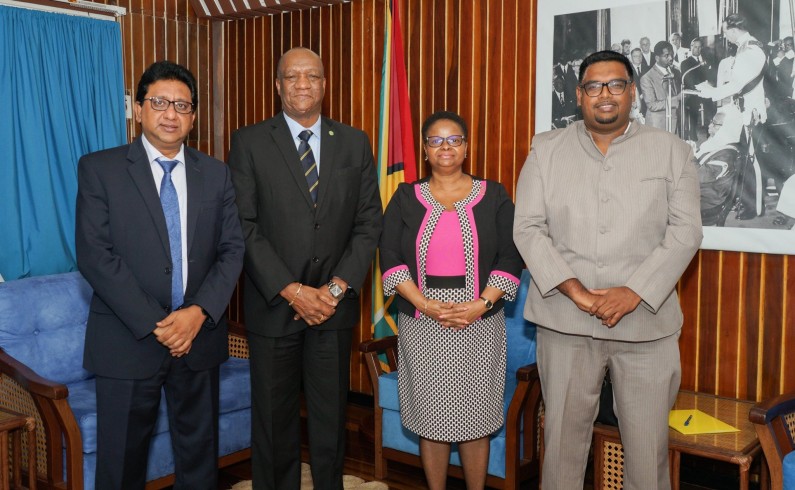 The "hammering out" meeting between the government and opposition are expected to continue this week as the search continues for a new Chairman of the Guyana Elections Commission. This week marks the third week that the process has been ongoing.
President David Granger is out of Guyana on a scheduled medical evaluation trip to Cuba. He is expected to return early this week
In a video release from the Ministry of the Presidency over the weekend, the President raised some concern that the Opposition might not be looking at a consensual process for the selection of the new GECOM Chairman in keeping with the Caribbean Court of Justice ruling.
The President said it is clear from the CCJ's ruling that he has a role to play.
"As far as I'm concerned, the interpretation is quite clear and it means that the President must have a role, must have a role. That is the word the CCJ used—'must have a role'—and I would resist any attempt to prevent me from exercising that function that has been given to me by the CCJ. The role of the President in the crafting and hammering out of a list must be respected".
So far, four names put forward by the Opposition have been deemed to be not unacceptable to the President. Opposition Leader Bharrat Jagdeo has since submitted four more names to be examined after he turned down two suggestions from the President.
The President is still studying the names.
The Opposition Leader in a statement of his own said the CCJ ruling did not alter the Constitution and it is him and him alone who will have to submit the six names that should all be not unacceptable to the President.
The Opposition has to formally submit six names of persons who must be not unacceptable to the President for the GECOM Chairman position. That formal process has not started as yet and the two sides have been hammering out potential candidates in keeping with the CCJ's advice.