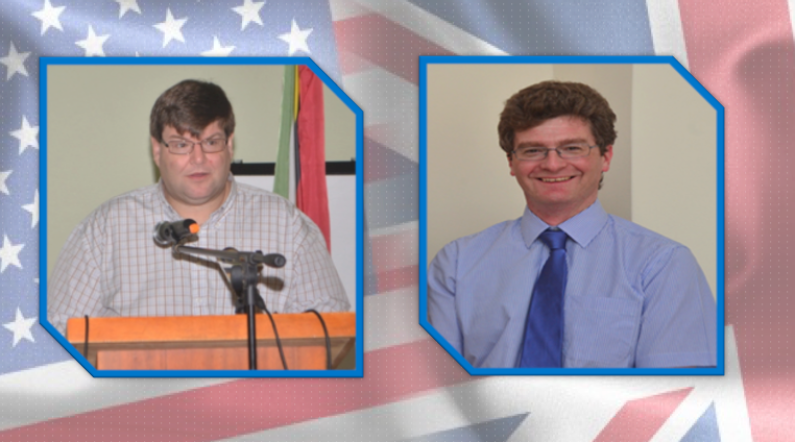 At least two Western Diplomats in Guyana have responded with consternation to claims by Opposition Leader Bharrat Jagdeo that the new government is allowing itself to take instructions from foreign representatives in managing the affairs of Guyana.
The Opposition Leader, at a Tuesday press conference said "foreign representatives from where-ever seem to be instructing the government on what to do on a daily basis and they comply."
However, his comments are not sitting well with several foreign diplomats in Guyana.
In an invited comment on Wednesday, Chargé d'Affaires of the U.S Embassy in Georgetown, Bryan Hunt brushed aside such claims and said not only are the claims a misrepresentation of the U.S engagement with the government but they are also far from the truth.
"I don't believe anyone who knows [President] David Granger or [Prime Minister] Nagamootoo would believe they would take instructions from anyone much less a career diplomat likes myself," Hunt said.
He explained that there are in fact certain areas of policy difference that exist but said his role as a diplomat is to engage with the government and find areas of commonalities and support those areas.
According to Hunt, the U.S Embassy in Georgetown still intends to hold the government to account on areas that they differ.
"I think the Leader of the Opposition, with due respect, misrepresents what is the state of affairs. The APNU+AFC has been clear on its policy position and have worked to advance that position… they are very much their own men or women and do not take instructions from any diplomats," he added.
The U.S Chargé d'Affaires was supported in his contention by British High Commissioner to Guyana Greg Quinn.
"The idea that foreign diplomats are instructing the government is not true and is in fact laughable… the government very clearly does what it wants to do, we have never instructed them in any way or form," Quinn added.
He said the beauty about democracy is that the Opposition Leader has a right to voice his opinion.
On a separate note, Hunt said he was recently reviewing the list of commitments made by the government for the first 100 days and believes that by any measure they have done "quite well."
"They have managed to organize most of the stakeholder meetings they have promised and managed to make progress on several key pieces of legislation… I think we are well advanced towards planning for local government elections," Hunt added.
He said outside of the list of promises, the government has demonstrated through its budget and other work a desire to inject a level of transparency and accountability into the management of the state and state resources.
The British High Commissioner recently told News Source that his personal belief is that the government has done extremely well over the last three months in office. (Kurt Campbell)