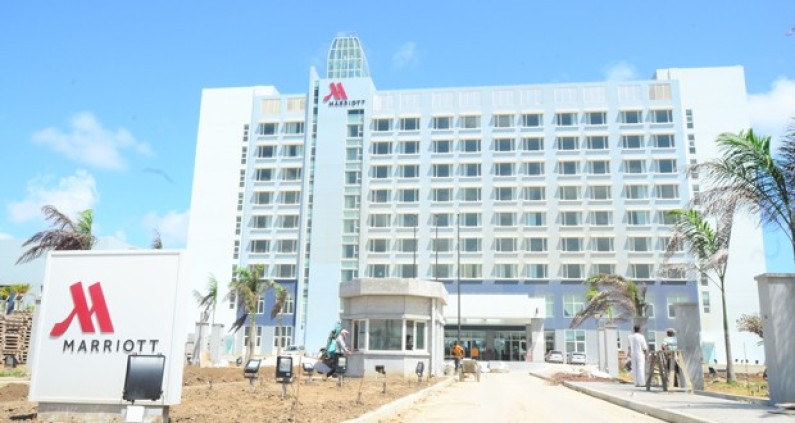 Kurt Campbell reports…
With the possibility of a change of government at the upcoming May 11 polls and in spite of continued objections from the political opposition, Chairman of the National Industrial  and Commercial Investment Limited (NICIL) Winston Brassington declared on Thursday that the Marriott Hotel is "here to stay."
Brassington who also heads Atlantic Hotels Incorporated, which is the owner of the Marriott asserted that every dollar invested in the project by the Guyana government and private investors was well invested with the hotel still eyeing an April 16 opening date.
Some 230 locals are expected to be employed by that time, having been shortlisted from a pool of 3000 applicants. Brassington's expression of confidence in the project comes in wake of fresh criticism from the political opposition after NICIL invested some US$26 million into the project.
The NICIL Chairman explained that this route had to be taken after  Court action by the opposition stalled financial disbursements for the project, which was committed by a syndicated group of lenders including Republic Bank Limited.
Brassington is confident that the legal action will be dismissed in the near future which will then pave the way for a reimbursement of funds invested by NICIL.
He clarified that the monies invested by NICIL was not tax payers dollars but rather from the proceeds of assets that were sold and dividends from investment, particularly the 20% sale of shares in the Guyana Telephone and Telegraph Company (GT&T).
Brassington feared that if this was not done, the project would have been halted altogether and would have attracted legal action from the Chinese contractors. The NICIL Chairman  said there was a politically orchestrated attempt to frustrate the project and scare the foreign investment.
The political opposition had criticized the government for lack of transparency and accountability associated with the project in which the government was investing tax payer's dollars. The opposition believes strongly that Guyanese labour should have been employed as far as possible and that raised objections to the employ of foreign labour.
However, Brassington maintained on Thursday that the objections were far too many and deliberately intended to derail and sabotage the project while objecting private investment. He boasted that despite the objections, the Marriott Board proceeded with the project along with support from government.
He said transparency and accountability will continue with the activities now subjected to be audited by the Auditor General and be subjected also to a Parliamentary review. "I can't speak for the opposition but this project is going to be alive very soon, the employees have been hired and continues to be hired and we will take it in good faith… the Marriott is here to stay," he added.
Brassington is confident that the hotel will attract high levels of occupancy as predicted by the feasibility study. Some US$52 million has been spent on the construction of the Marriott Hotel.
Filed: 12th March, 2015