US Secretary of State Anthony Blinken met virtually with Foreign Ministers of CARICOM on Wednesday. It was the first meeting between the new US Secretary of State and regional governments. Several matters, including COVID-19 and its economic impact on the region were discussed.
In a statement, CARICOM said the discussions at the meeting focused broadly around the Covid-19 pandemic and its health and economic fallout, recovery of the regional economy, climate change and democracy, human rights and security.
During the meeting, the CARICOM Foreign Ministers used the opportunity to implore the US to assist with the region's vaccination drive, as several countries in the region including Guyana have been recording a steady rise in COVID-19 cases.
Many CARICOM states are depending on the UN-sponsored COVAX initiative to acquire vaccines, but that facility has faced numerous setbacks in meeting its earlier commitments to the region.
The top US diplomat expressed his willingness to strengthen cooperation with CARICOM and pledged to engage his colleagues in the US cabinet on the issues which were raised by the CARICOM ministers.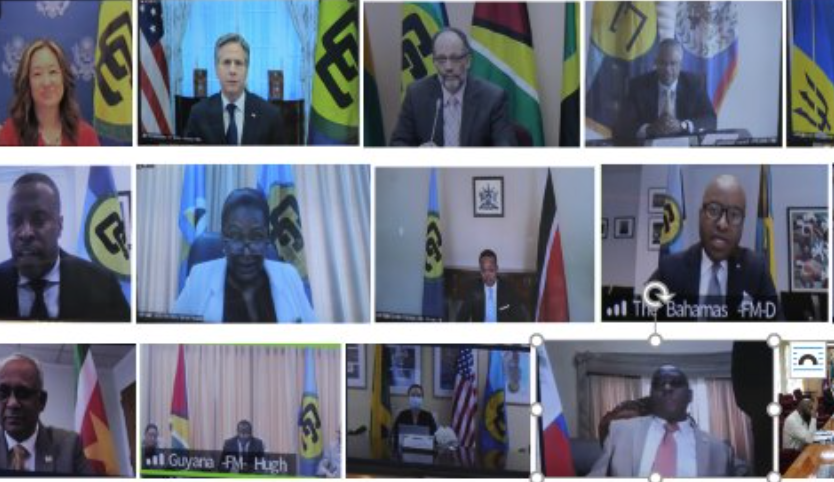 During the meeting, Caricom Secretary-General, Ambassador Irwin LaRoque spoke of the need for the region to access concessional development financing based on vulnerability, especially during the COVID-19 pandemic and the ongoing La Soufriere volcano in St. Vincent as well as the upcoming hurricane season.
Caricom as well as the United States have also reaffirmed their support for St. Vincent and the Grenadines and pledged to assist in that country's rebuilding efforts.