The Georgetown City Council is now reaching out to the owners of the L. Seepersaud Maraj and Sons Jewellery Store, days after a multi million dollar heist at the company's Stabroek Market location.
The Georgetown City Council manages the Stabroek Market and is in charge of its security through the City Constabulary.
Today, Chief Constable Andrew Foo said an internal investigation has commenced into the heist, even as he complained that the City Constabulary was informed of the incident hours after it took place.
Foo told reporters at City Hall during a special press conference, that the Council and the Constabulary were not prepared to look into blameworthiness until a thorough Police investigation is completed.
He pointed out that the Constabulary was working along with Police detectives on the matter.
The Chief Constable said although a report was made directly to the Guyana Police Force when the break in was discovered on Tuesday morning, late notifications sent to the City Constabulary hampered its response efforts.
Foo said ranks in his department were notified of the robbery some two hours after the discovery, preventing any possible combing of the market for criminal elements who may have still been in there.
He said persons usually hide in the market just before closure and carry out these acts during hours of closure, using the first opportunity after the market is opened to leave.
The Chief Constable said the robbery would have occurred sometime over the long weekend but he could not ascertain specific timings. No other break in to any other stall was reported.
Several members of the City Constabulary have already been questioned by the police, according to Foo.
Five Constabulary ranks were said to be on duty at the market on several shifts throughout the weekend. No one observed anything strange during that time and Foo said he would not comment on the possibility of negligence or collusion to that end.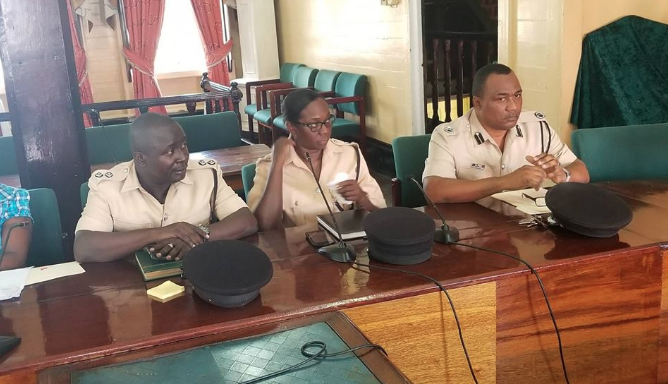 He said there is definitely need for more manpower to adequately police not only the market, but the entire capital city.
A team from City Hall, headed by Deputy Mayor Akeem Peters met with the proprietors earlier in the day as the investigations continue.
Town Clerk Royston King observed that the family has been operating the business in the market for well over 80 years and also reminded of a similar robbery back in 2014.
There has been no official report of the extent of the losses suffered by the company. However, company officials said the robbery must have taken place on Monday night and they cannot understand how the thieves made it pass all of their security lawyers to break into the safe.
Today, the owners of L. Seepersaud Maraj and Sons said they would offer no comment on the issue as they are now more focused on security.