The European Union officially launched its elections observer mission in Guyana today.
The full-fledged mission is the first of its kind to be deployed to Guyana by the EU during the general and regional elections.
The Chief Observer and EU Foreign Minister, Urmas Paet noted that the European Union (EU) is not concerned with the outcome of the upcoming elections, but wants the elections to be free, fair and credible.
In the weeks leading up to the 2nd March Elections and immediately after,  the EU will have more than 50 observers on the ground.
Fourteen of the observers have already been deployed to the various administrative regions.
The Chief Observer said "as I speak, our long term observers are meeting with election officials, candidates and representatives of civil society. They will report their observations back to the core team in Georgetown and these will contribute to the mission's informed and impartial assessment of the electoral process."
This is the first European Union elections observer mission Guyana since 2001 and even then it was not a full-fledged team.
The Chief Observer confirmed that this was made possible due to the invitation from President David Granger.
The EU Parliamentarian thanked the President for the invitation.
The EU will report its preliminary findings two days after the elections with a more detailed final report expected within four months.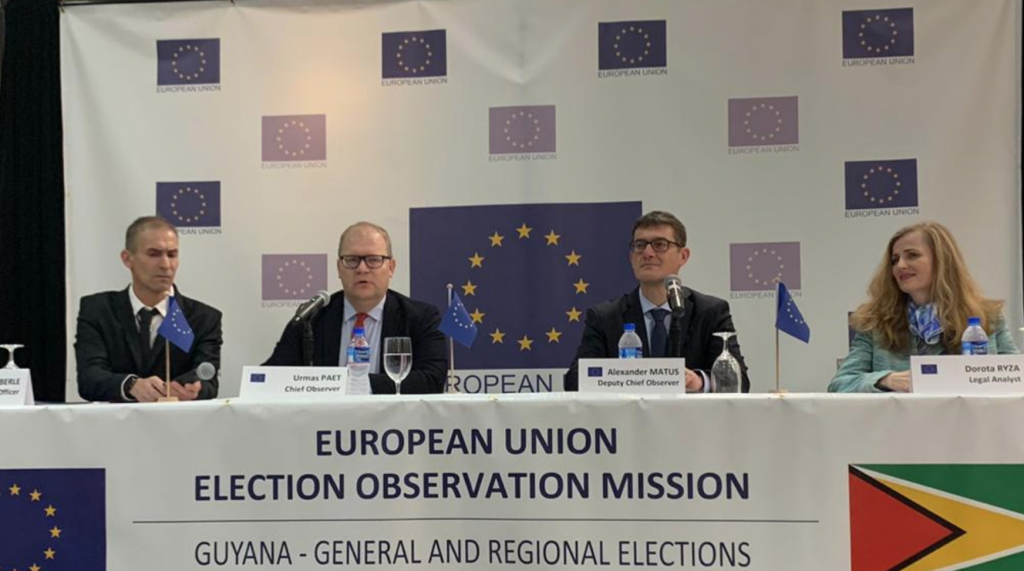 "However, we do hope that our presence will have a positive effect on reinforcing confidence in the process and that it will help to deter any potential fraud, intimidation and violence. We are here to observe if the election process is conducted in a transparent and credible manner, we will access to which the elections are in accordance with the laws of Guyana as well as international and regional commitments. "
The head of the Election Observer Mission further, noted that he has since met with the Attorney General and Minister of Legal Affairs, the General Secretary of the People's National Congress Reform (PNCR), the Opposition Leader and other key stakeholders.
He is also expected to meet the Minister of Foreign Affairs, the Chairperson of the Guyana Elections Commission, and other political parties.
(by Anthony Glasgow)