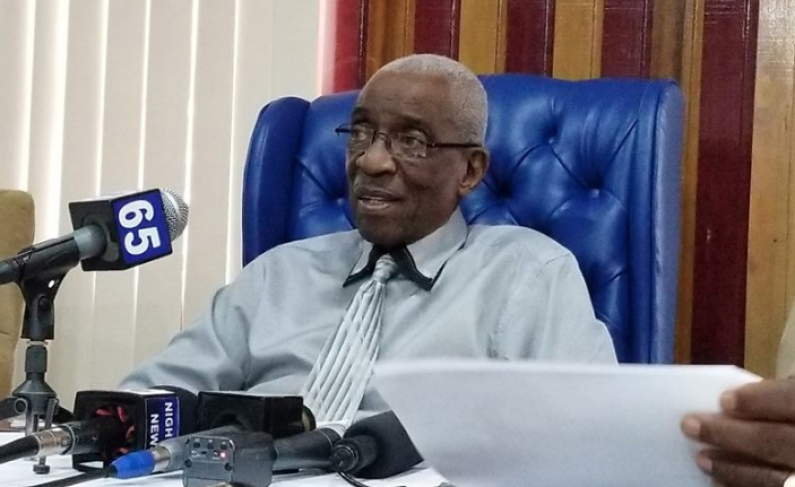 A clearly incensed and frustrated Chairman of the Guyana Elections Commission, today complained that the Elections Commission has found itself facing "designs and machinations to stymie the operation and coming into force, the coming elections".
GECOM Chairman, Justice James Patterson, told reporters at a press conference today that there is "mischief afoot internal and as well as external. I find that very troubling".
Asked to offer details, the Chairman would only say that he finds it very worrying that almost every time there is a meeting of the Commission, private discussions would make their way into the public domain moments after the meetings.
Mr. Patterson said he is convinced that the objective of the efforts is to stall the forthcoming Local Government Elections, which are set to take place on November 12.
"I feel sad to have to report to you that since my regime here, it seems to be that integrity has been put in a blind trust. Fortunately, I have a cadre of operatives who don't yield to that sort of description", he said.
The GECOM Chairman who is a retired Judge, also said that while he understands and supports the right of anyone to move to the Courts to have their issues addressed, there seems to be a move to use the legal system as a tool of "disruption".
"I am not saying people who are aggrieved should not have access to the Courts, but I believe that some time, some lawyer, some member of the profession may file an action in the Court deeming, if it comes to that, the misuse of the legal system by any particular individual to have transgressed access to the Court and deem him searched"
The Opposition People's Progressive Party currently has a number of cases in the Court against the Guyana Elections Commission and the Chief Elections Officer. Those cases range from elections petitions to objections to the new local authority areas.
The Elections Commission Chairman today also raised concern that the issue of race is also being used in the efforts to stymie the work of the Elections Commission.
Justice Patterson said he has done all that is humanly possible to bring the two sides closer to an understanding, but they appear to be drifting further apart.
The Elections Commission today indicated its readiness for the Local Government Elections. A public awareness campaign to prepare voters for elections day is set to begin within days.