(GINA) Private developers who are in possession of hundreds of acres of land in prime areas on the East Bank of Demerara were urged to start, or in some cases, resume works or the government will take necessary actions. This came as Minister within the Ministry of Communities, Keith Scott, visited several commercial zones and housing development areas along the East Bank of Demerara.
Scott, who has ministerial responsibility for Housing and Water, and a team of officials visited areas handed out to private developers under the previous government. These include Caricom Insurance, Winsor Estate, Bai Shan Lin, Courtney Benn, Richmondville,  Nabi and Sons, B.K. International, Dax and Odinga Lumumba.
The minister expressed dissatisfaction with the pace of development that is taking place in some of the private developers' areas, especially at Bai Shan Lin, Nabi, Dax and Caricom Insurance, since these areas were allotted to the investors since 2011.
In the case of Bi Shan Lin, works have been stalled for over two years.
Minister Scott immediately requested a meeting with head of the project on Thursday, since there wasn't anyone on site who spoke English. He said that the company will have to explain why there was no progress within the last three years, "The Ministry will see where, according to the agreement, clauses which we can implement. There might be 25 per cent fine that we may be able to attach as a penalty for them not developing the lands. When we give people land, it is not to speculate but  for them to suit the aspirations of the Guyanese people," Scott emphasised.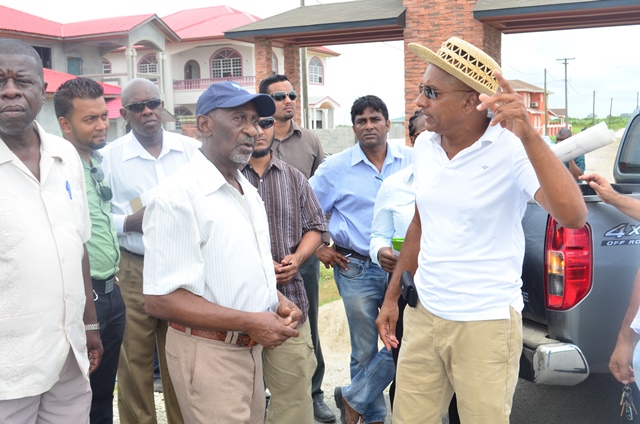 At the Dax site, there was only one house up with construction almost completed. Minister Scott said that more needs to be done in terms of having the necessary infrastructure in place. The company promised to start  work immediately and promised that within the next six months, there will be progress.
On the issue of persons attaining these lands and selling the lots instead of developing it, Minister Scott pointed out that it is against the principle of development.  He explained that there is that part of the agreement where the developers must install internal drains, water and electricity, and build houses within a given time.
"Nothing has been done here, some developers have also resold the lands by change of names of directors of companies, so companies, although they have the same names they are owned by different people. But we are not going to get into that illegal aspect. We are insisting that whoever is responsible in terms of development they must deliver in terms of having developments within a given timeframe. If that doesn't happen we will have our legal people access the areas of the contract that says that we can reposes the lands or ask them to immediately commence reconstruction or construction," Minister Scott stressed.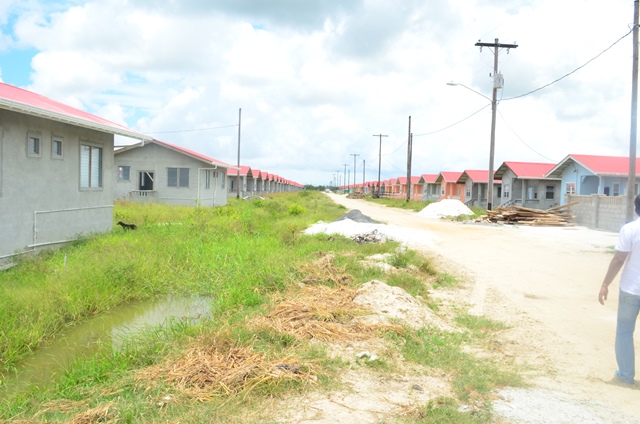 The Minister also visited Perseverance Phase Three, where the turn key homes are being constructed, the re-migrant scheme and areas to be developed behind Little Diamond and Prospect.
He noted that the priority is to realise the establishment of a water well, which he describes as the most critical aspect that will cost a huge sum of money and once that is in place, the electricity will follow.
The Government's policy is to have cohesive communities, as against a "collapsed system under the previous administration", Minister Scott noted. He added that the intention is not only to distribute lands, but rather, to have the necessary infrastructure available where people can live cohesively.
He said that the Government has also inherited a backlog of 25,000 house lots that persons have not been able to access.
There is the case of persons having house lots and not being able to identify it and they can't move forward. This, Scott said will  not go on any longer, noting that when a person attains land, within a matter of months, "there must be progress."
In the case of contractors who have not been able to deliver, Minister Scott said that the ministry is prepared to repossess the lands according to clauses of the contract that allow the government to take back the lands which they can't deliver minus the areas they have completed.