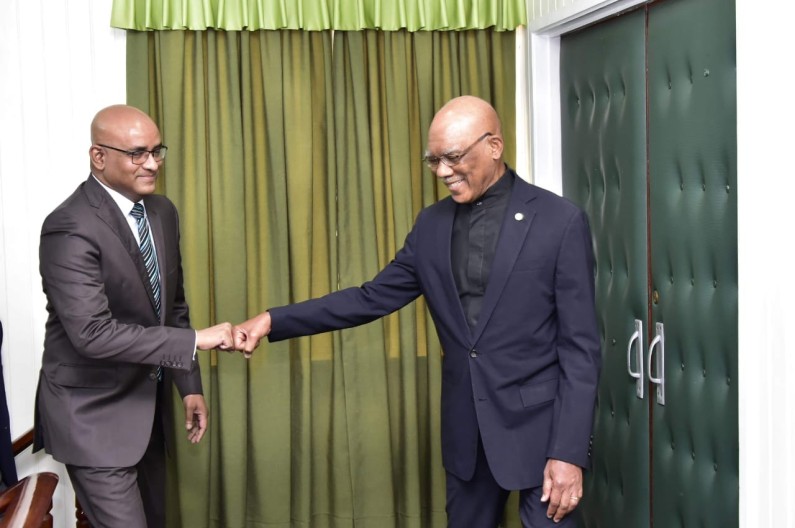 The meeting between President David Granger and Opposition Leader, Bharrat Jagdeo ended this midday with no agreement on an election date. However, the two leaders have agreed to meet again.
President Granger will now meet with the Guyana Elections Commission and after that meeting, he will be expected to invite the Opposition Leader to another meeting for them to discuss the way forward.
Both meetings could take place within days.
Today's meeting started with a fist bump between the two and ended with the President stating that it was "useful and fruitful', but with the Opposition Leader declaring that it did not get too far.
The Leaders and their delegations met for just over an hour at the Ministry of the Presidency.
In a statement after the meeting, President Granger said both sides are working to deal with the issues that now confront the nation.
"The engagement this morning, focused largely on the role of GECOM because it is GECOM, an independent agency which could determine when elections can be held. The President or executive or any other body, cannot intervene, cannot intrude, cannot interfere, with the work of GECOM. So we have to allow GECOM to do its work", President Granger.
The President said the Opposition Leader was insistent on a date for elections, but has to meet with GECOM to get a better understanding of their needs for the elections.
"I would like to meet the entire Commission to determine what their needs are, in terms of time and money. So the door is open and the Leader of the Opposition has agreed to meet again. And the people of Guyana could be assured that we are working to ensure that credible elections are held within the shortest time as possible", the President noted.
On the outside of the Presidential Complex, the Opposition Leader explained that once the meeting could not agree on a date for elections, it did not get too far. He said he still believes that the elections can now be held by the 30th April.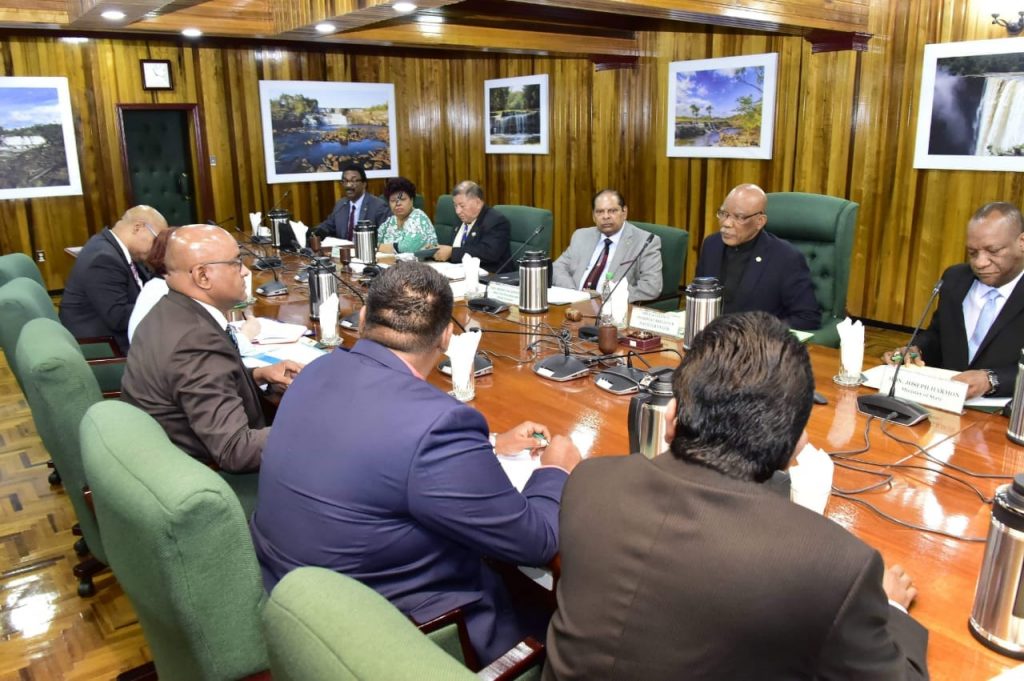 But he said he would be willing to meet with the President again, but made it clear that "the ball is now in the President's Court".
Mr. Jagdeo said the President invited him to be part of the meeting with the Guyana Elections Commission, but he told him "we have absolutely no interest in meeting GECOM jointly".
The Opposition Leader also said that his party still has no interest in house-to-house registration taking place since such a move could take up to eight months and delay the hosting of the elections.
The Guyana Elections Commission has indicated that the earliest date by which elections could be held would be sometime in July of this year. In the meantime, the Commission has voted by majority to move ahead with its 2019 work plan, which includes house-to-house registration.