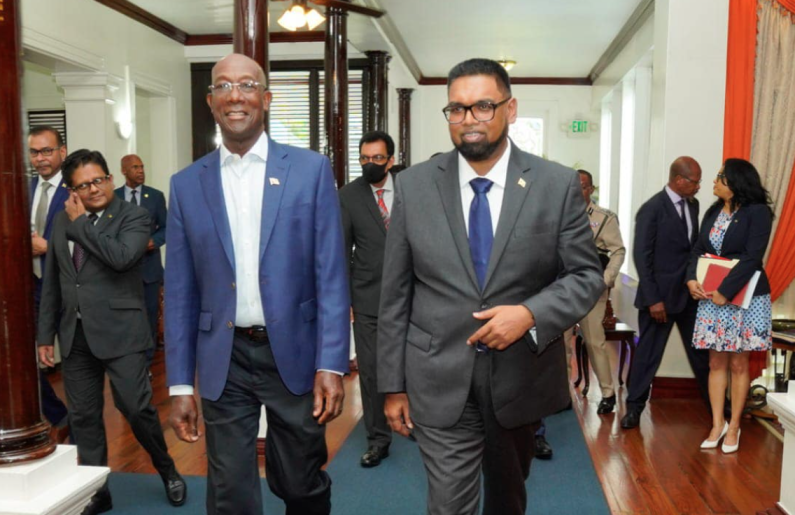 President Irfaan Ali and Prime Minister of Trinidad and Tobago, Dr. Keith Rowley met and held bilateral talks this afternoon at State House, moments after the Prime Minister arrived in Guyana ahead of the Regional Agriculture Forum and Exhibition which opens on Thursday.
According to a statement from Prime Minister Rowley's team, the two leaders engaged in broad, extensive bilateral talks and pledged to deepen ties between Guyana and Trinidad and Tobago.
It was explained that the discussions focused specifically on agriculture, energy, and national security.
A Memorandum of Understanding covering the key areas which were discussed is to be signed and released.
The Trinidadian Prime Minister was accompanied by his Foreign Affairs Minister, Dr. Amery Browne, Agriculture Minister Kazim Hosein and Minister in the Ministry of Agriculture, Avinash Singh.
President Ali was accompanied by the Minister responsible for Finance, Dr. Ashni Singh, Minister of Agriculture Zulficar Mustapha, Tourism, Industry and Commerce Minister Oneidge Waldron, Home Affairs Minister Robeson Benn and Foreign Secretary Robert Persaud.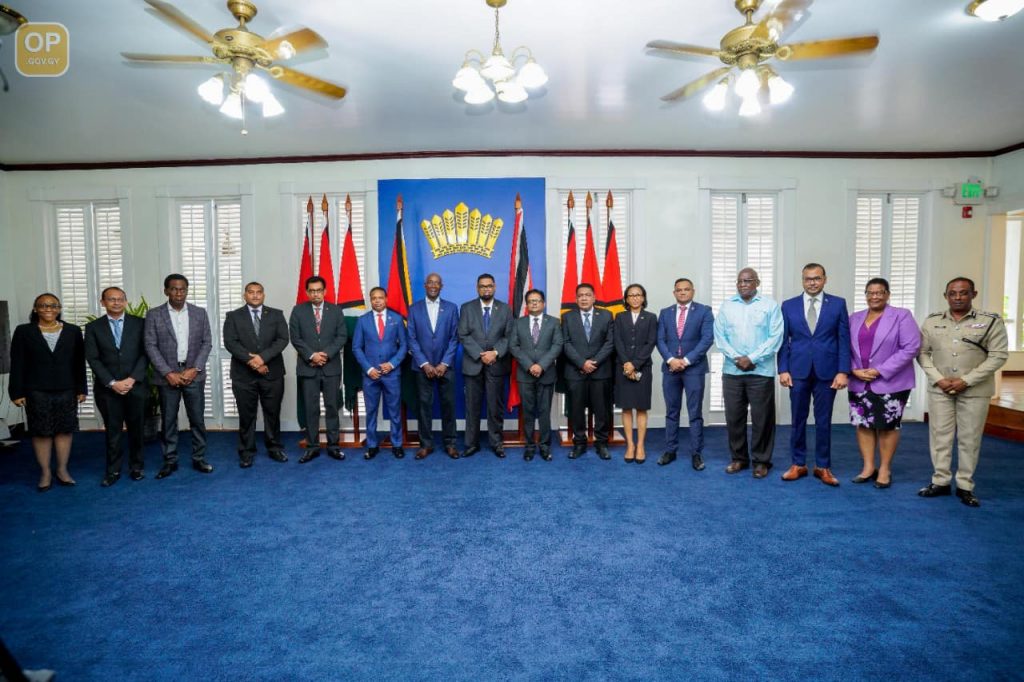 Guyana and Trinidad and Tobago have been seeking to iron out relations following a tit for tat spat between the two countries after Vice President Bharrat Jagdeo described the neighbouring twin-island republic as a country that was falling apart.
The statement by Mr. Jagdeo resulted in an official rebuke from the Trinidadian Government with the country's Foreign Minister writing Guyana's Foreign Minister on the issue.
Vice President Jagdeo was not present at any of the meetings today with the Trinidadian Prime Minister.