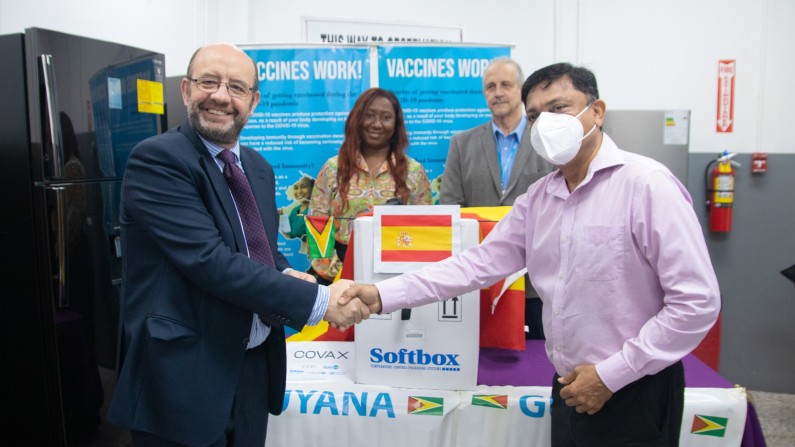 The Ministry of Health, with support from the Pan American Health Organization (PAHO), has received 4,800 doses of the Pfizer vaccines for children ages 5-11 from Spain through the COVAX mechanism.
The Ambassador of Spain to Guyana Fernando Nogales handed over the Pfizer vaccines to the Chief Medical Officer (CEO), Dr Narine Singh in the presence of the PAHO/WHO Representative, Dr Luis Codia during a simple ceremony today at the Health Ministry's Kingston Bond.
In expressing gratitude to the Government of Spain on behalf of the Health Ministry and the Government of Guyana, the Chief Medical Officer said the donation comes at a very critical time.
"This [donation] comes at a very opportune time when we are presently out of stock. We know that although we are at the end of the COVID pandemic, we still need to do vaccination because vaccination is still the most important tool in prevention, and preventing severe morbidity and mortality from COVID," Dr Singh said.
He noted that in addition to the paediatric doses received for the 5-11 cohort, an additional 8,640 doses of the Pfizer vaccines for the adult population were expected to be delivered to the Health Ministry later today as part of the donation.
Ambassador Nogales said Spain was pleased to offer support Guyana in the fight against the deadly COVID-19 pandemic.
"I am very happy, I am very, very proud because Spain has turned out to be the second largest vaccine donor in the region," the Ambassador said.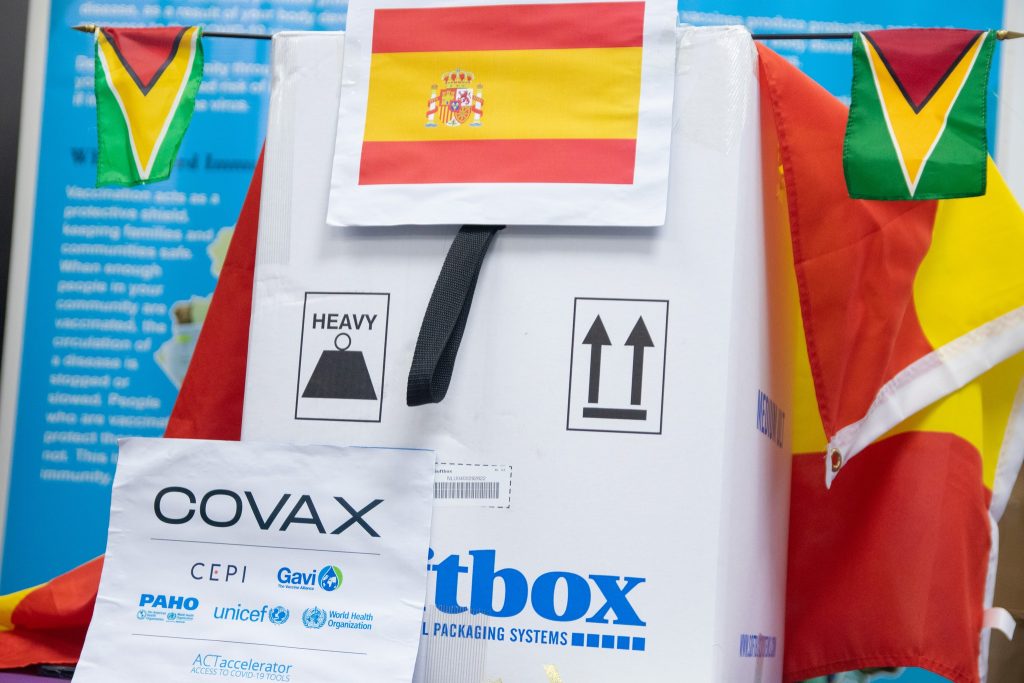 He said also applauded the Government on the effective roll out of the immunization programme in Guyana. He said its effectiveness is a demonstration of the visionary policy of the Government.
"Despite the odds, the disinformation, it made a huge effort to underline how important vaccination is. It has not only proven to be the most scientifically sound approach to a disease that threatens to disrupt very significantly our current way of living but also it has been proven, perhaps the best show of civic duty that a person can show, is the responsibility towards the people around you," the Ambassador said.
Maternal and Child Health Officer and Health Ministry's Immunization Manager, Dr Oneka Scott said the COVID-19 vaccine uptake in Guyana is favourable. However, she expressed concern that infections continue to be recorded, particularly among the 50-75 age group, and as such, vaccination remains key in the fight.
"Getting vaccinated remains one of the safest ways to protect yourself or to protect those that are considered your loved ones that you are around," Dr Scott said.
To date, there have been more than 73,000 confirmed cases of COVID-19 in Guyana with 1,298 deaths recorded as of March 17, 2023. Globally, there have been more than 760 million cases with more than 6.8 million deaths.