The Guyana Police Force on Tuesday announced that 79 murders have been committed from January to July 21 of this year in Guyana. That figure represents an 18% increase in the murder rate when compared to the same period last year.
In a statement the Police Force also  reported that robberies are also on the rise across the country.
"At the end of June 2014 robbery under arms overall has increased by 22%, with 577 reports compared to 472 for the same period in 2013. The statistics indicate an increase of 33% in the number of armed robberies involving the use of firearms; and a 4% increase in armed robberies where instruments other than firearms were used by the perpetrators", the police statement said.
While the report did not say how many of those cases have been solved, it called on citizens to also ensure their own safety. The Police report noted that public security is a shared responsibility and the Force "is encouraging the public to continue partnering with it in order to strengthen the safety and security of all".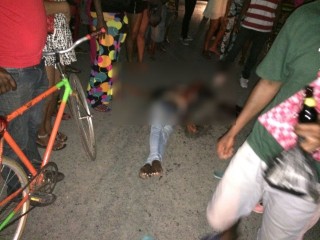 Guyana has been seeing a steady increase in murders, robberies and other violent criminal acts over the past few years. The Guyana Police Force is now offering some tips to citizens in an effort for them to ensure their own safety.
The Police Force takes this opportunity to highlight some other measures that can be taken by citizens in order to avoid being easy targets for criminals:
Ø  Keep the telephone numbers of the nearest police station in your community in a place where it could be easily accessed in time of need.
Ø  Keep the telephone numbers of the members of the Community Policing Group in your community in a place where it could be easily accessed in time of need.
Ø  Call the police and/or members of your Community Policing Group and inform them of the presence of suspicious-looking vehicles and persons.
Ø  Ensure your gates, doors, and windows are properly secured before leaving your premises or retiring to bed. Moreover, and as far as possible, ensure someone is left to overlook your premises if you are leaving for a long stay, such as a holiday.
Ø  Walk in groups, avoid lonely and not-well-lighted places, and beware of suspicious-looking persons on pedal and motor cycles.
Ø  Instead of walking home, utilize taxis or other vehicular arrangements when leaving night clubs.