Cuba remains one of the closest allies of Venezuela but despite that, President David Granger on Sunday still sought the help of the communist country to stave off Venezuela's aggression in the border controversy with Guyana.
President Granger and Cuban President, Raul Castro held bilateral discussions at the United Nations headquarters in New York on Sunday morning and President Granger said he impressed upon the Cuban leader, the importance of using its influence in the matter.
Guyana and Cuba have shared diplomatic relations for several years and Guyana has often called on the American government to lift the economic sanctions against Cuba.
President Granger said the meeting with President Castro was an important one.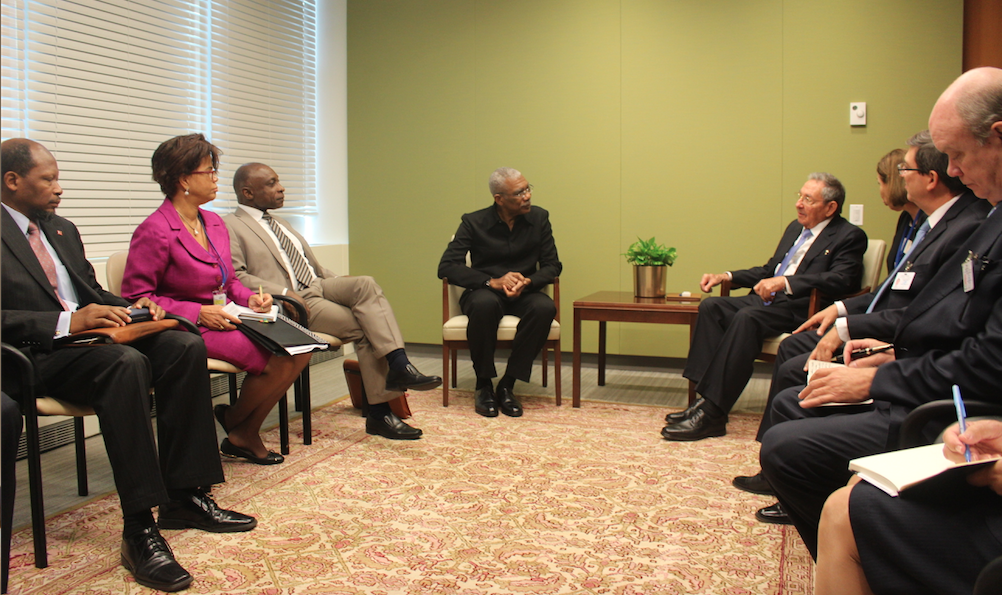 "We are aware that Cuba is very close to Venezuela and we would certainly like Cuba to use its influence to exercise or to moderate influence on Venezuela so that we can bring this controversy to an end as quickly as possible".
The President reminded that Guyana already lost part of its territory to Venezuela in the 1899 Tribunal award and its time for Guyana to move ahead and get ahead with its development.
According to President Granger, "we believe Cuba's weight in the Caribbean could influence the outcome in favour of ensuring the Caribbean as its own remain at peace".
Mr. Granger said during the meeting, he once again recommitted Guyana's support for Cuba and the lifting of the embargo against Cuba. He also thanked the Cuban leaders for the close ties the two countries have shared over the years and Cuba's training of Guyanese medical doctors.
President Granger is expected to meet with UN Secretary General Ban-Ki-Moon and the Venezuelan President, Nicolas Maduro later this evening in UN facilitated talks. The President said he will be talking to the UN Secretary General and will continue to inform other Heads of State about Venezuela's ongoing aggression against Guyana.
Coverage of UN General Assembly in New York, compliments of FLY Jamaica Airways and Star Party Rental.