GEORGETOWN –  On July 22, 2014, the U.S. Embassy provided more than $7,600.00 worth of equipment and supplies to Youths For Guyana (YFG) as part of the Guyana Shines: Keep Guyana Beautiful initiative.
The property grant included gloves, bags, computers, tables, electronic equipment, and other items to support the group's environmental work.  The recent handover follows over $34,000.00 in grant funding provided to the YFG organization as the implementing partner for the Guyana Shines environmental program.
With additional support from Guyana Shines corporate sponsors ExxonMobil, Republic Bank, and Caribbean Containers Inc, we can come together – government, citizens, the private sector, and the international community – to meet this complex but critical challenge.
The Guyana Shines: Keep Guyana Beautiful project was formally launched on June 1, 2014, and will continue until June 2015.
The Guyana Shines: Keep Guyana Beautiful project uses focused messaging on the environment through "education" and "action" elements.
These will include environmental workshops for civil society and private sector partners; training and collaboration with schools and environmental clubs; impactful and memorable radio and TV public service announcements; the creation of protected green spaces; and weekly clean-ups.
It is the latest chapter in a series of Guyana Shines community development projects that have taken place since April 2012.  Past activities include visits to 62 primary and secondary schools in Georgetown to educate students on the environment and litter, several neighborhood clean-up projects, training for environmental volunteers, the creation of an original video documentary, and the wide showing of the Trashed documentary.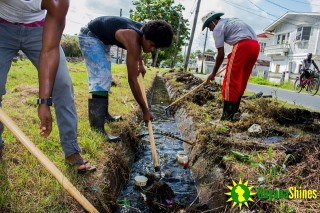 Already, Guyana Shines: Keep Guyana Beautiful has undertaken a number of projects to directly benefit the people of Guyana.  On June 8, 2014,Guyana Shines volunteers carried out a clean-up of the beach along the Georgetown Seawall in celebration of World Oceans Day, to lend their voices through action towards maintaining and protecting the ocean from multiple threats.  Since the launch, volunteers have taken part in clean-up exercises around Georgetown every single weekend – frequently joined by community residents, local businesses, and government officials to include the Mayor and City Council and the Environmental Protection Agency.  In mid-July, Guyana Shines started transformational work on its first green space, located in the Werk-en-Rust neighborhood.
The Guyana Shines team is very pleased to see that Berbice Shines recently formed and is already flourishing –  establishing environmental clubs, planting trees, and educating citizens in Regions 5 and 6.  Similarly, a Linden Shines movement was also created, which encourages people to get involved and protect the environment in Region 10.  These initiatives, though independent from Guyana Shines, clearly demonstrate that positive change is happening for the environment, community by community.
(US Embassy)