Outgoing UN Secretary General Ban-Ki-Moon has advised that Guyana and Venezuela allow the Good Officer's Process to be restarted and continue for one year, but if there is no agreement by the end of 2017, then the International Court of Justice should be the next step.
The assessment came on Friday as a new UN Secretary General is preparing to take over the world body in full by year end.
"On the basis of that stocktaking, the Secretary-General has reached the conclusion that the Good Offices Process will continue for one final year, with a new PRSG with a strengthened mandate of mediation, who will be appointed by the Secretary-General-designate shortly after he takes office.   If, by the end of 2017, the Secretary-General concludes that significant progress has not been made toward arriving at a full agreement for the solution of the controversy, he will choose the International Court of Justice as the next means of settlement, unless both parties jointly request that he refrain from doing so", the statement said.
The UN Secretary General reminded that within the framework of the Geneva Agreement, a Good Offices Process under the Secretary-General has been in place for the last 25 years in order to find a solution to the controversy.
The process has so far involved three Personal Representatives of the Secretary-General (PRSG), but in spite of these efforts, it has not been possible to bridge the differences between the parties.
He added that fifty years ago, shortly before Guyana's independence in 1966, the Geneva Agreement was signed with the aim  of amicably resolving the controversy that had arisen as the result of the Venezuelan contention that the Arbitral Award of 1899 about the frontier between Venezuela and what is now Guyana is null and void.  The 1966 Geneva Agreement confers on the Secretary-General of the United Nations the power to choose means of settlement of the controversy from among those that are contemplated in Article 33 of the United Nations Charter.
The UN Secretary-General said he has engaged in intensive efforts to find a way forward that would be most conducive to finding a solution.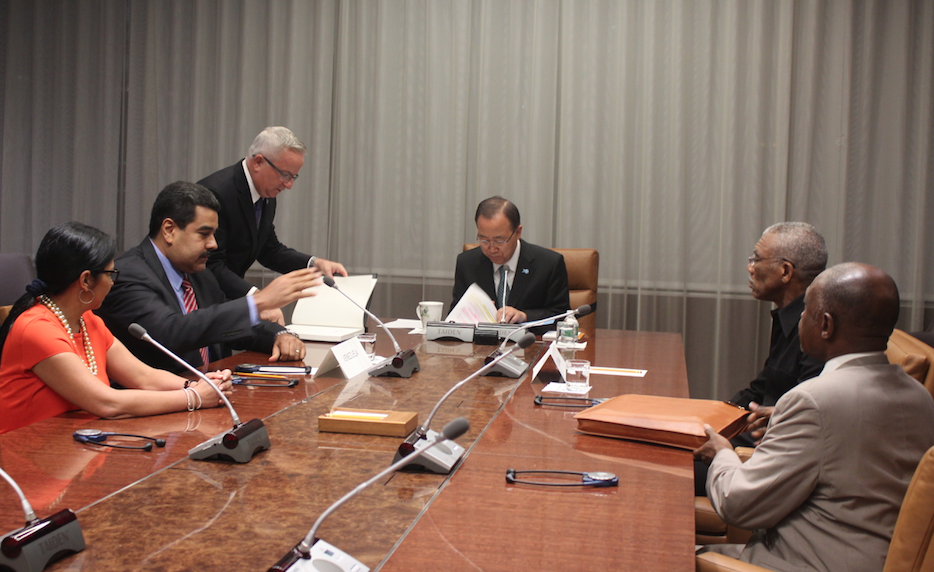 The Secretary-General has discussed these conclusions with the incoming Secretary-General, who has expressed his concurrence with them.
"The Secretary-General and the Secretary-General-designate applaud Guyana and Venezuela for addressing the controversy through peaceful means.  The Secretary-General and the Secretary-General-designate are committed to see the controversy between Guyana and Venezuela resolved", his statement added.
Guyana has been pushing for the controversy to be settled by the International Court of Justice even as Venezuela prefers the UN Good Officers Process.
With that process failing to find a solution for over 25 years, it is likely that Guyana and Venezuela may soon have to start getting their legal teams together for the international court.