(NY Daily News)  An NYPD housing officer was killed Tuesday night, shot in the head by a trigger-happy perp during a chase and gunfight on a pedestrian overpass above the FDR Drive in East Harlem, police said.
Officer Randolph Holder, 33, was shot in the forehead by the callous gunman, who had stolen a bike and was being pursued by cops along the promenade hugging the East River around 8:30 p.m., Police Commissioner Bill Bratton said. The brave officer died at 10:22 p.m. at Harlem Hospital.
A suspect, shot in the legs, was arrested.
Holder, who emigrated from Guyana, was a third-generation police officer, following in his father and grandfather's footsteps in the line of duty, Bratton said during a somber press conference at the hospital.
The unmarried immigrant joined the NYPD in July 2010 and worked in Police Service Area 5, wearing Shield No. 13340 as he patrolled the public housing projects of East Harlem.
"I think all of us will tell you this is the hardest thing that we do," Bratton said. "That we mourn one of our own. I've been doing this for 45 years. It doesn't get easier. It never gets easier and it should never get easier."
Holder was the fourth NYPD officer killed in the line of duty in the past 11 months.
Police responded to reports of gunshots around 8:30 p.m. near First Ave. and 102nd St.
Witnesses told cops several men fled over the pedestrian walkway that crosses the FDR Drive and then continued onto the footpath that runs alongside the highway.
"There was an argument between two or three people. All of a sudden there were shots, you could hear the shells kick back as they hit the cement. I had my whole family on the floor," said witness Doris Ayala, 62, who lives at the Urban American River Crossing apartment complex at 102nd St. and FDR Drive.
"I thought they were going to shoot outside of my window. There was a gun on the sidewalk outside my building," said the shocked woman, who reported hearing about 10 shots.
One of the men stole a bicycle and fled north along the footpath.
Holder and another cop encountered the fleeing suspect on another pedestrian overpass, near 120th St., and exchanged gunfire.
"There were six or seven shots, they were exchanging fire," said John Lucero, 19, who could see the shooting from his apartment window. "There were three of them, one police officer and two other men. Cops were pointing at a body. It was a police officer. He was just lying there."
The mortally wounded Holder crumpled to the ground as the ruthless suspect ditched the bike and ran north along the promenade. The fiend was finally apprehended at 124th St.
He suffered gunshot wounds to his legs and was taken to New York-Presbyterian Hospital Weill Cornell.
Rescuers rushed the critically injured cop to Harlem Hospital.
Three other suspects were taken into custody around 111th St. and were being questioned early Wednesday.
At least two guns were recovered, police said.
Mayor de Blasio was seen rushing out of a dinner for the Gracie Mansion Conservancy, an invitation-only fund-raiser to celebrate the grand reopening of the mayoral residence after recent repairs.
"We're all in mourning tonight. This whole city is in mourning," Mayor de Blasio said. "We're mourning a man that gave his life as a guardian for all of us.
"We are humbled by Officer Randolph Holder's example of service and courage and sacrifice. Our hearts are heavy. We offer our thoughts and our prayers to his family who are experiencing unimaginable pain as we saw earlier when we gathered with them," the mayor said.
Traffic on the FDR Drive was at a standstill for hours as police investigated the shooting.
Dozens of people were seen exiting taxis and walking toward First and Second Aves. in search of other means of transportation.
Witnesses watched as emergency crews cut the guardrail separating the northbound and southbound lanes near 116th St. to allow cars to turn around and exit the clogged roadway around 11:30 p.m.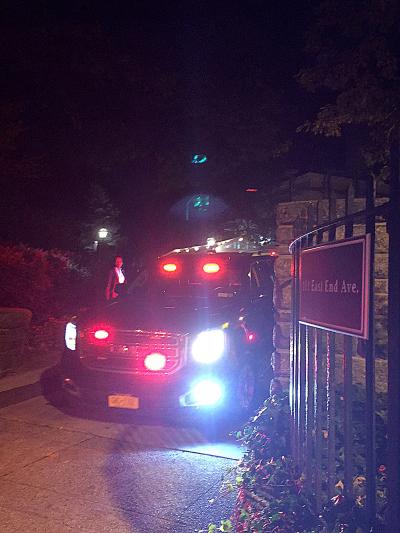 At Harlem Hospital, hundreds of police officers held vigil, hoping for the best before they received the grim news of their fallen colleague.
"New York City police officers everyday go out and carry themselves on the street like superheroes on the street," Patrolmen's Benevolent Association President Patrick Lynch said. "But the reality is, when we're attacked, we bleed. When we bleed, we die. And when we die, we cry."
The slain office's father was on hand at the hospital. In his moment of grief, he offered his son's fellow officers comfort.
"When in his time of grief, he sought to comfort the officers of PSA 5. He was strong enough and brave enough to go in and address them as they tried to comfort him. He in fact was comforting them," a teary-eyed Bratton said.
"I can understand his son and the bravery his son exhibited tonight, rushing toward danger and giving his life for the citizens of New York City."
At least 100 NYPD officers were seen leaving the hospital around 11:30 p.m.
Three other NYPD officers have been shot and killed while on the job in the last 12 months.