ALBERTSON, N.Y. (CBSNewYork) — Some New Yorkers have given an extraordinary donation to a young woman who endured a horror.
The woman was mutilated by an abusive boyfriend, and her children were killed. As CBS2's Carolyn Gusoff reported exclusively to the woman, Natasha Houston.
The simple act of pushing open a car door is a struggle for Houston, in what amounts to a painful reminder of an unthinkable act by a man she once loved – a man who was easily enraged.
"He would start hitting me — that's 'his business. 'I was to ask no questions," Houston said. "He was just slapping me, choking me, cuffing me into my head."
Houston, 23, wears the scars of the horror she survived in her native Guyana – a horror that left her two children dead.
"He padlocked the door with me inside with my kids," she said.
In July 2013, Richard Lord – armed with a sword he used to cut sugar cane – hacked off Houston's right arm.
"I knew this hand was already lost because of how it was, so I started to fight with him with this hand — the left hand," Houston said.
Lord then slashed Houston's left hand, leaving her defensive as he slaughtered their son Saif Lord and daughter Kimberly Houston — and left Natasha Houston for dead.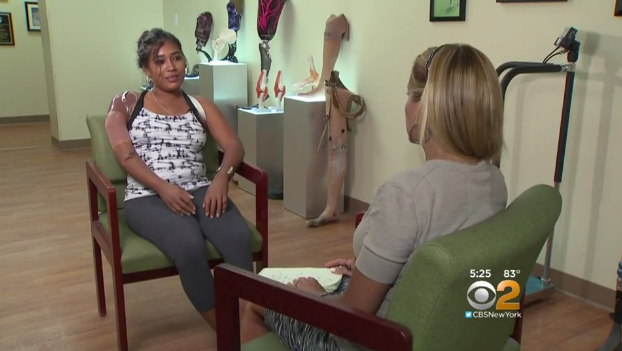 "It broke my heart — to hear that would happen to someone," said prosthetics maker Dan Bastian.
Bastian, an amputee himself, learned of the tragedy from a group of Guyanese New Yorkers, who had been pooling resources for a year to get Houston help in the form of new arms and hands.
"At least it's a start; it gets her back out in the community," Bastian said. "She can actually use the functional arms."
In the U.S., prosthetics are readily available, covered by insurance and highly advanced. But in Houston's native Guyana, prosthetics are antiquated and Houston was told they could not help her.
But on Long Island, Houston was given a left hand.
"It has acrylic nails. It's custom painted to match her skin exactly with the veins; the palms," Bastian said.
Houston also has a body-powered right arm.
"She can open and close the hand; lock and unlock the elbow so that she can hold things," Bastian said.
Houston was immensely grateful.
"I have a life back, and I'm thankful for everything," she said.
And with her life, she wants to help other women unable to break free of abuse.
"I want them to know that don't stay in any form of abusive relationship, because it's going to end worse," she said. "They say they're going to change, going to change, it's going to stop."
Houston returns this week Guyana as a proud and brave survivor.
Lord was never caught. But he was found dead weeks after the attack – he had committed suicide.