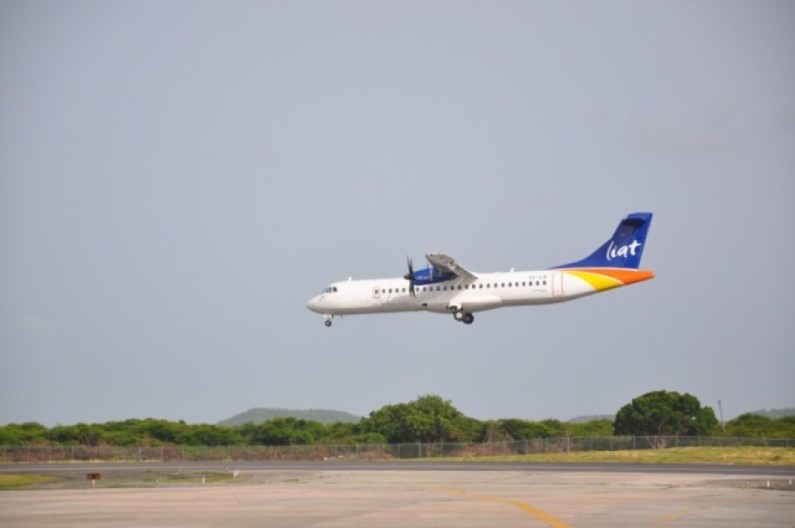 Regional carrier, LIAT has announced that the airline will begin its schedule service to and from the Ogle Airport on Guyana's East Coast from Monday, July 22.
In a statement issued on Saturday, the airline announced that it will begin daily flights from Ogle into Barbados's Grantley Adams International Airport.
"Effective Monday, July 22, LIAT will operate a daily flight from Barbados to Ogle with a daily return service", the airline's statement said.
According to the carrier, Liat's Flight LI521 will depart the Grantley Adams airport at 12:30pm daily, arriving at Ogle at 2:20pm. The return flight will leave Ogle at 3:00pm and will arrive in Barbados at 4:50pm.
A few months ago, Executives of the company flew into Ogle on one of the airline's test flights to the new International airport. Airline Officials said they were pleased to be adding Ogle to the carrier's schedule.
Meanwhile LIAT has also announced that it will soon commence an evening flight into the Cheddi Jagan International Airport from Barbados. The Flight will leave Barbados at 8:00pm nightly to arrive at Guyana's Cheddi Jagan Airport at 10:00pm. The return flight to Barbados will leave Guyana at 5:00am daily, arriving in Barbados two hours later.
The airline is encouraging customers to be aware of the travel codes that will be attached to their tickets and reservations. The airport code OGL will represent flights heading into and leaving from the Ogle airport while the code GEO will represent its flights arriving at and departing from the Cheddi Jagan airport.
The airline believes it should see increased travel from the Guyana market with the addition of the Ogle Service. The Ogle International airport is located on the East Coast of Demerara and is a 10 minute drive from Guyana's capital of Georgetown. The Cheddi  Jagan airport is located at Timehri which is a 50 minute drive from the capital. LIAT believes its Ogle service will provide the carrier with the competitive edge it needs over Caribbean Airlines.