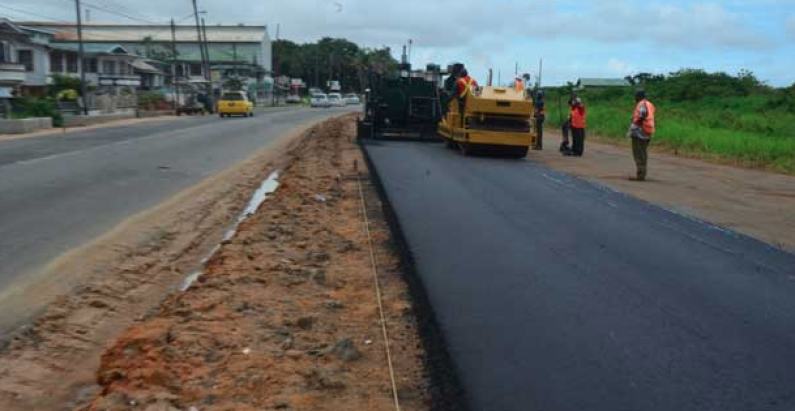 Finance Minister Winston Jordan announced major infrastructural projects to take place across Guyana over the next year with large sums of money allocated to back those plans.
Shortly, a US$50 million loan will be signed with the Government of India to construct a new road link between Ogle on the East Coast of Demerara and Diamond on the East Bank of Demerara.
"The proposed new road will intersect several communities, including Sophia, South and North Ruimveldt, Eccles and Providence, creating an alternative access route to these densely populated areas, expanding business opportunities and opening new lands for housing development. Overtime, it is the vision of the Government to extend this East Bank-East Coast road link, to connect the Ogle International Airport and the Cheddi Jagan International Airport," Jordan said.
The government will invest $2.3 billion to upgrade the West Coast Demerara Road, from Parika to Vreed-en-Hoop.
The works include widening the corridor and improving road safety features. "Addressing the deplorable and underdeveloped infrastructural facilities in the hinterland region is paramount on the Government's infrastructural development agenda," he added.
To this end he said the Government will pursue several initiatives, in an effort to expand the integration of road networks into our intermediate savannah, thereby helping to bridge the divide between our vast rural and hinterland communities and the coastland.
A total of $6.72 billion has been allocated for the improvement of hinterland, rural and urban community roads in Bartica, Mahdia, Ituni/Kwakwani, Puruni/Itaballi, Mabaruma and Port Kaituma/Baramita and the Sophia ring road, among others. In collaboration with the IDB, the government will commence activities to facilitate the complete rehabilitation of the 47-year-old Soesdyke/Linden Highway.
In the meanwhile, critical works will be undertaken to preserve its upkeep.
Concurrently, maintenance works will be undertaken on the Linden/Kwakwani corridor. Over the longer term, we aim to fully pave this road so as to open access to communities in Ituni, Aroraima, Kwakwani, Ebini, Kimbia and other remote areas along the Berbice River.
A feasibility study for the reconstruction of the existing bridge which links the communities of Wismar and MacKenzie will also be carried out.
"Additional resources have been made available to expand efforts currently being undertaken to improve farm-to-market access roads at Parika, Ruby and Laluni. We are in discussions with the same donor for new farm access interventions in Triumph, Buxton and Ithaca, in order to stimulate micro-farms and small-scale agro- processing initiatives," Jordan said.