A group of indigenous families was discovered with malnourished children on Friday in a remote village in Guyana's Barima-Waini region, close to one of the bordering communities with Venezuela.
Most of the persons in the group which includes mostly small children and their mothers, are believed to be from an indigenous village in Venezuela.
Many of the small children appeared malnourished and underweight. The helpless parents attempted as best as they could to indicate that they needed help. They mostly spoke spanish, according to community leaders.
A Guyanese non-governmental organisation, Blossom Incorporated was one of the first groups to discover the migrants and offer help.
The group which has been working in the indigenous communites also contacted regional and government authories for additional help and resources.
Guyanese authorities upon learning of the discovery, rushed into the area with medical and other supplies. One of the children was flown out to the city of Georgetown for emergency medical care.
The Ministers of Human Services, Health and Amerindian Affairs were all part of a team that took supplies to assist the families on Sunday in the Region One area.
Minister of Human Services, Dr. Vindya Persaud explained that while many of the children had various infections, there was none found starving.
"Paediatrician Dr. Samaroo who speaks Spanish was able to communicate with the families (with the help of a female there who spoke both Spanish and Warau). He and I examined many of the children and found cases of impetigo ( skin rashes / infection ), diarrhoeal diseases, conjunctivitis ( pink eye ), cough and cold for which medications were provided. We referred 4 children with skin. Conditions along with a neonate with fever to Port Kaituma Hopsital for further attention. But no child was critical, starving or an emergency case", Dr. Persaud wrote on her Facebook page.
The Human Services Minister said the families were found living in very poor conditions and the Government will be looking at avenues to to help to alleviate their poor conditions.
In a statement, the Government of Guyana said it remains mindful of its humanitarian obligations to migrants and has been actively engaged in sustained efforts to deliver food and medical relief across the regions where migration into Guyana is taking place.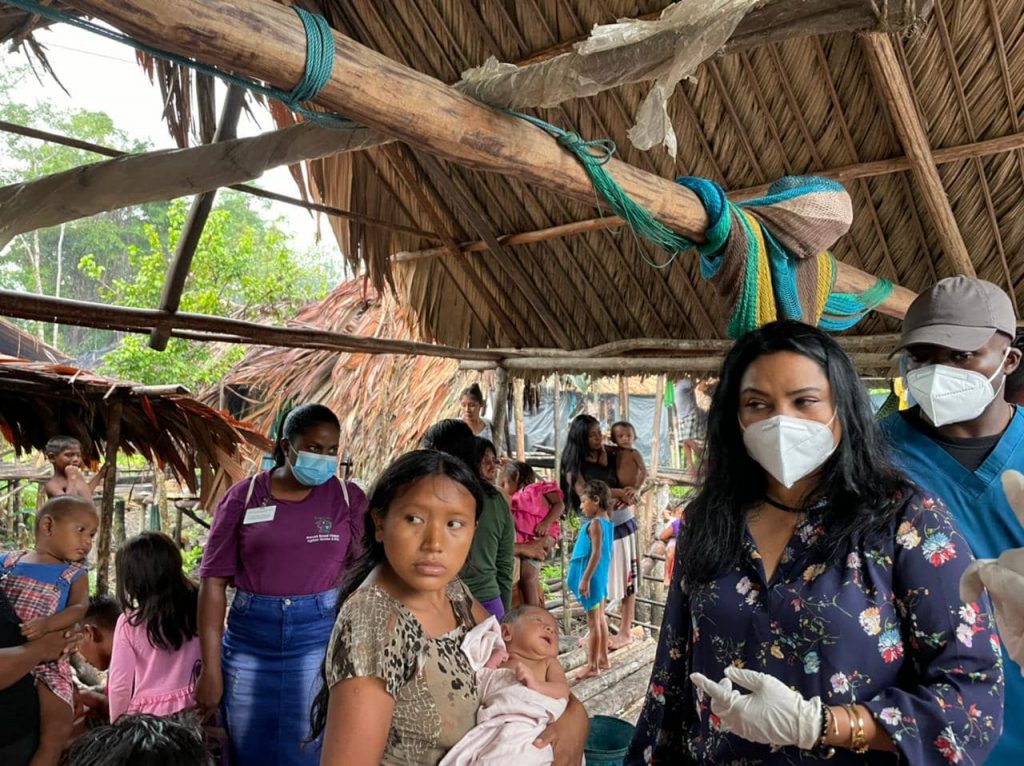 'The Government remains committed to the humane management of the migrant situation stemming from the economic and social instability in neighboring Venezuela, with the active support of local stakeholders and our international partners", the statement noted.
A team of medical and other support staff will remain in the area in the coming days to offer additional support and ensure other systems are set up and implemented in the bordering region to assist the Venezuelan migrants.
Communities across Guyana's Barima-Waini region have been faced with an influx of Venezuelan migrants over the past three years, as many of them escape the economic and social hardships in their homeland.
With support from various local and international organisations, the Guyana Government has put several initiatives in place to assist the migrants with their settling in Guyana.
It is estimated that there are over 22,000 Venezuelan migrants and refugees currently in Guyana.