Close to two dozen persons from the Moruca village in Region One staged a picketing exercise this morning to make known their disapproval of a decision by the Government to lock down the Region One communities as cases of the Coronavirus skyrocket there.
Some of the protesting residents doubted the existence of Coronavirus in their community but still wore face masks and stood 6 feet apart with their placards.
One resident claimed that he was tested positive for the virus yet his wife who he lived with tested negative and he believes that points to the virus being a hoax.
Others were more concerned about the lockdown of the communities in Region One, especially in Santa Mission. They said they believe any lockdown measure should be supported with financial and other support for the residents.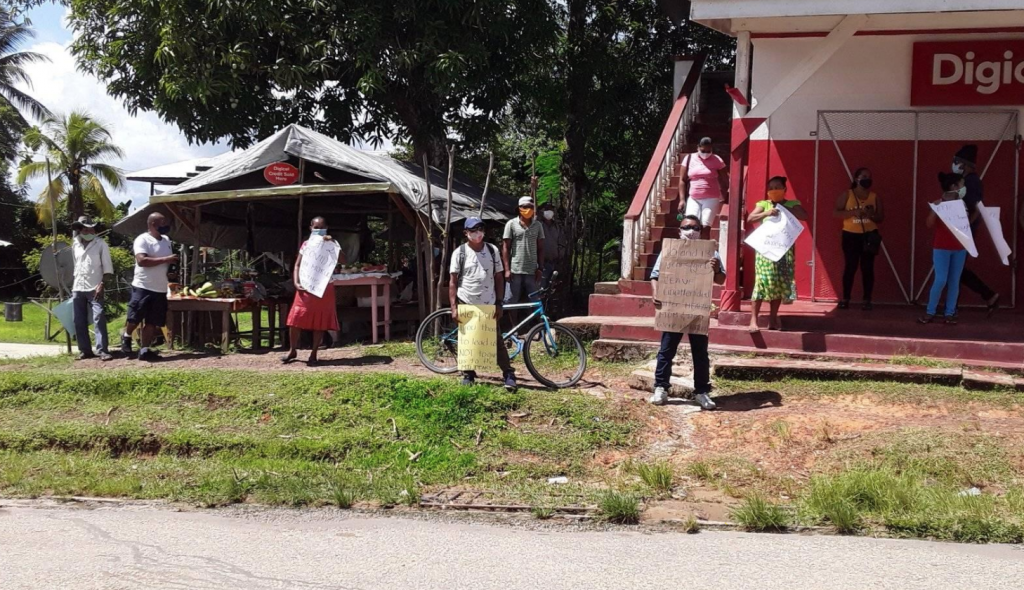 Many of the residents who are farmers were concerned that they would not be able to access their farms during the four week lockdown and that could have a devastating impact on their livelihoods.
The Public Health Ministry locked down the communities yesterday and the lockdown is expected to stay in effect for the next four weeks. As part of the lockdown, there will be widespread testing in the communities. A Ministry of Public Health team will be moving into the communities to conduct the tests.
Region One has more than 50% of the current active COVID-19 cases in Guyana. Officials in the region have complained in the past weeks that many residents have been ignoring the health and safety guidelines even as the numbers were climbing.