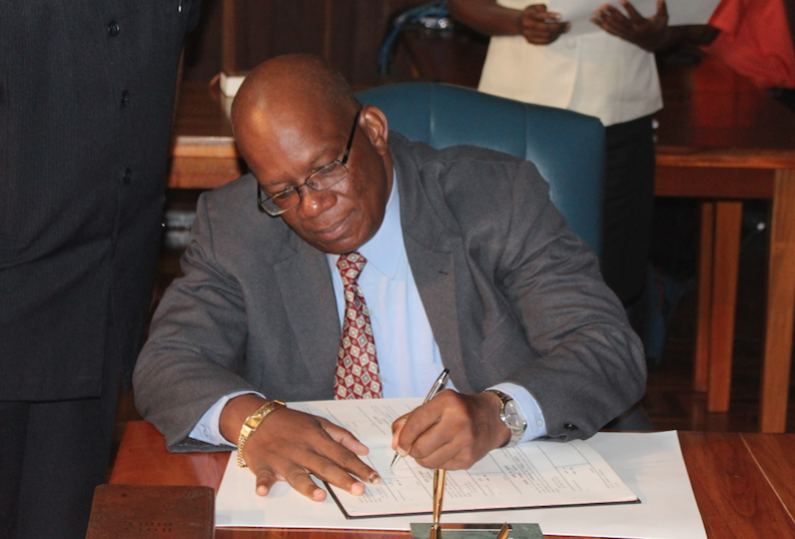 Guyana's new Minister of Finance, Winston Jordan intends to have a National Budget prepared and presented to the National Assembly for consideration by September.
Jordan, who previously served as Head of the Budget Agency within the Ministry of Finance and is a highly trained and respected Economist, assured that the 2015 budget will cater for assurances given by the coalition on the campaign trail.
The coalition has promised significant salary increases for government workers including nurses, teachers, security personnel and civil servants on the traditional payroll.
The budget is also expected to reflect a significant increase in old age pensions and the waiving of duties on fuel, tools and small-scale mining equipment.
According to the Finance Minister, the Budget will be prepared in keeping with the coalition's 100 day plan which was scripted in the its elections manifesto.
"The law states that three months after Parliament first reconvenes the budget must be presented. So if it reconvenes next week, count three months from there and a budget will be presented," he said.
When asked by News Source to comment on the country's current financial stability, Jordan said in keeping with a verbal synopsis he was provided with, it suggests that the country is financially firm on the macro side.
But in spite of that, he is adamant that he needs to see the figures and analyze them before making his own judgment.
He believes he was fed last year's information, which would not reflect the first five months of this year.
Already the new Finance Minister has met senior staff at the Ministry of Finance and has started to organize the Ministry in order to achieve its mission statement and the agenda of the APNU+AFC government.
He also confirmed reports that the Consolidated Fund was overdraft.
"Usually the fund is in overdraft but it is not supposed to be. This means that technically we will have to pay a lot of interest for heavy borrowing," Jordan explained.
The Finance Minister stated that the fund is in overdraft because large chunks of money were outside the fund rather than in it.
He said getting that money placed in the fund is high on the new government's agenda.
According to the Finance Minister, excess monies that are not needed to run the operations of state agencies should and will be placed in the fund. (Kurt Campbell)