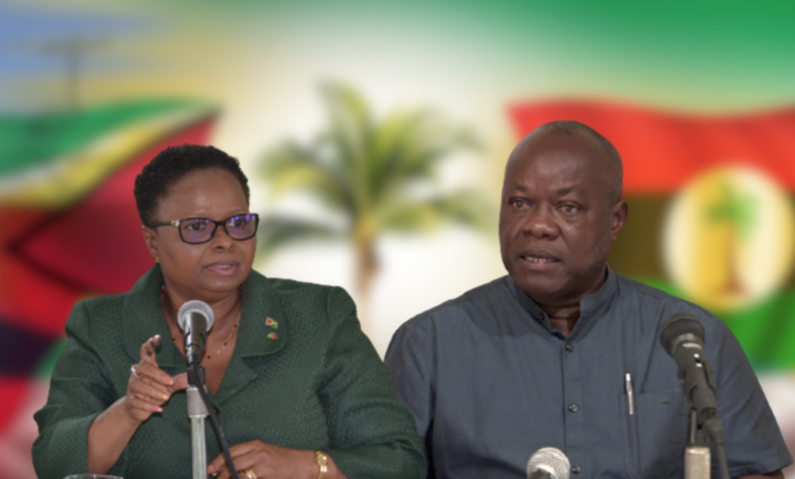 Former Chairman of the People's National Congress Volda Lawrence will make a return to the National Assembly along with Party Leader Aubrey Norton as replacements for former Opposition Members of Parliament Joe Harmon and Nicolette Henry, APNU+AFC sources have confirmed.
PNC Leader Aubrey Norton, who is also the Chairman of the APNU, held discussions today with AFC Leader Khemraj Ramjattan on the issue.
The discussions followed internal meetings of the top brass of the People's National Congress.
While Mr. Norton was always expected to be one of the two heading to Parliament, there was a delay in finalizing the second person as there were efforts to attempt to convince longtime party member Carl Greenidge to take up the seat.
However, Mr Greenidge indicated that because of his current commitments to Guyana's border case before the International Court of Justice, he would be unable to walk away from that and take up the seat in Parliament.
The PNC top brass agreed that Volda Lawrence who is an accountant by profession and previously served in the National Assembly would be the next best choice, since the party wanted someone with a strong financial background to take up the second seat.
Sources close to the APNU+AFC have indicated that the letter with the two names has already been written and will be signed by both the APNU and AFC leaders and dispatched to the Representative of the List early on Saturday.
The Representative of the List, former President David Granger has indicated that once he receives the letter, he will send the request to the Elections Commission for the two names to be extracted from the coalition's candidates list.
Norton and Lawrence will be expected to take the oath of office at the next parliamentary sitting and just after the Parliamentary Opposition will meet to elect a new Opposition Leader.  
Mr. Norton is expected to take up that position.