The two main political parties, the APNU+AFC and the PPP Civic are this morning calling on Guyanese to remain calm and resist provocations.
The calls came in wake of hours of unrest in the Sophia community in South Georgetown late on Elections night.
A number of cars and a stable belonging to a resident of the came community were set alight on Monday evening after rumours surfaced in the community that the man had ballot boxes at his house.
Though those claims were never verified and it would have been impossible for ballot boxes to be removed by anyone other than the police and polling agents, Sophia residents rushed out to the road way and launched a protest.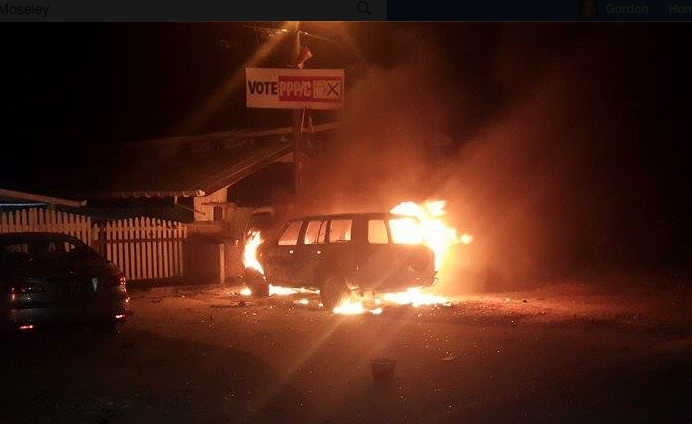 Within minutes vehicles and a property were set ablaze. The Guyana Police Force was forced to bring out its riot squad and the Guyana Fire service rushed into the community also.
In a statement, APNU+AFC Presidential Candidate David Granger called on residents to remain calm and cautioned them against taking part in any disorderly event. He said any acts of disorder or violence cannot be for the benefit of the coalition.
The PPP in a statement of its own also called for calm but said the APNU+AFC must take responsibility for the situation that got out of control in the Sophia community.
At a 2:30 am press conference on Tuesday, former President Bharrat Jagdeo said he had warned about persons milling around polling stations to "guard ballot boxes".
He said the APNU+AFC and its leaders will have to take responsibility for the properties and vehicles which have been damaged.
Jagdeo also called on the police to ensure law and order is maintained.
The Guyana Elections Commission has also issued a call for calm as the statements of poll are being returned for the announcements of the results.