With Guyana set to join the group of oil producing nations, President David Granger today paid his first visit to the ExxonMobil oil drilling ship, the Deepwater Champion.
The President expressed his gratitude to the ship's crew for their recent discovery of hydrocarbons.
"We are one of the Guianas, and it is a rich part of the world, in terms of rainforest, current, minerals, so  I am glad that we have opened the door, I am glad that you are a part of opening the door for us," the President said.
He also mentioned his earlier commitment, prior to assuming office, of the creation of a Sovereign Wealth Fund, so that the disposal of any natural resource will go towards benefitting the people of Guyana.
Meanwhile, Minister of State in the Ministry of Presidency, Joseph Harmon who was also on the trip, noted the level of enthusiasm on the rig itself because of the finding. He also assured that Guyanese will not be excluded from whatever wealth comes out of the venture.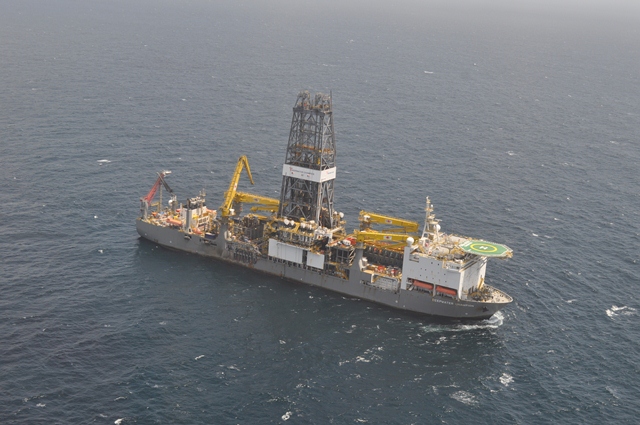 "We believe that good days are ahead for Guyana," Harmon said but cautioned that "the time between an announcement and the use of that facility could very well be a couple of years."
Harmon noted however, that the company is very "bullish about what they have found and they believe that the investment that is needed to take it to the next level is almost assured.
He said that Government is satisfied that ExxonMobil is doing what needs to be done and, whatever happens out there will redound to the benefit of the Guyanese people.
"Guyanese people can all be assured that whatever comes out of the sovereign wealth of this nation, that they will be part of it, that they will benefit it.
ExxonMobil, on May 20 disclosed that it has found a deposit of a 'significant' amount of oil in the Stabroek Block, about 120 nautical miles offshore Guyana.  The company said this discovery was made in one of the two wells it dug, in the Liza-1 drill site which realised more than 295 feet of high-quality oil-bearing sandstone.
In the released statement, President of ExxonMobil Exploration Company Stephen Greenlee, said, "I am encouraged by the results of the first well on the Stabroek Block…over the coming months we will work to determine the commercial viability of the discovered resource, as well as evaluate other resource potential on the block."
According to the oil company, the well was "spud" on March 5, 2015, and the well data will be analysed in the coming months, to better determine the full resource potential. (GINA)