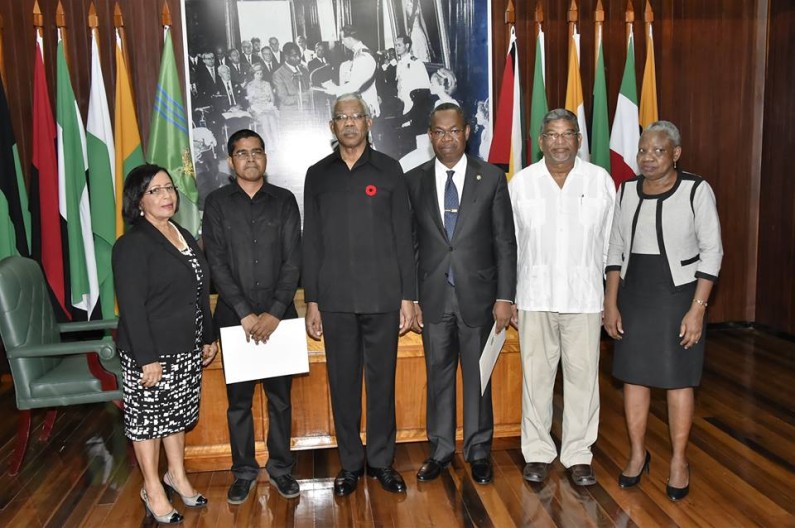 In keeping with his promise to operationalise the Public Procurement Commission by the end of October, President David Granger on Friday appointed the persons who will serve as the Commissioners on that body.
The five persons, nominated by both the government and opposition, took their Oath of Office at the Ministry of the Presidency and are expected to commence work by next week.
The members appointed by President David Granger following their nomination by the Public Accounts Committee (PAC) of the National Assembly earlier this year are Emily Dodson, Carol Corbin, Ivor English, Sukrishnalall Pasha, and former Labour Minister, Dr. Nanda Kishore Gopaul.
The establishment and operationalisation of the PPC will effectively end Cabinet's role in the award of multi-million dollar contracts.
The amended Constitution which paved the way for the PPC some 14 years ago, also allows for and reducing of the responsibilities of the National Procurement and Tender Administration Board.
President Granger said the establishment of the PPC represents respect for supreme law of the land.
"The constitution provides that there shall be a Public Procurement Commission to monitor public procurement and the procedure to ensure that procurement of goods and services and execution of works are conducted in a fair, equitable, transparent, competitive and cost-effective manner," the Head of State said in brief remarks.
Mr. Granger congratulated the PPC members and urged them to be faithful to their Oath.
He also charged them to uphold their constitutional duty to the commission in being independent, impartial and fair.