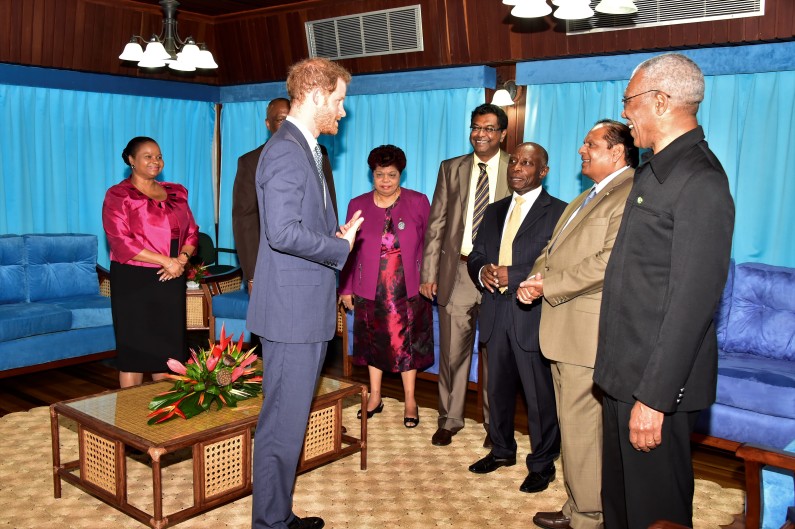 President David Granger, on Friday, welcomed His Royal Highness Prince Henry of Wales, familiarly known as Prince Harry, at the Ministry of the Presidency. The Prince is representing his grandmother, Her Majesty, Queen Elizabeth II on a Royal Tour of the Caribbean, which kicked off two weeks ago in Antigua and Barbuda.
Prime Minister Moses Nagamootoo, Minister of Foreign Affairs, Mr. Carl Greenidge, Minister of Public Security, Mr. Khemraj Ramjattan, Minister of State, Mr. Joseph Harmon, Minister of Social Cohesion, Ms. Amna Ally and Minister of Social Protection, Ms. Volda Lawrence were also present during the meeting. The Prince's entourage was led by British High Commissioner, Mr. Greg Quinn. During their discussions, President Granger expressed the nation's appreciation to the Prince for his visit and explained that his presence will shine the spotlight on all that the country has to offer, particularly its green and pristine forests and what it has to offer the world in the fight against climate change.
On Saturday, His Royal Highness is scheduled to visit the Iwokrama International Centre for Rainforest Conservation and Development, of which, his father, HRH Charles, Prince of Wales, the Duke of Cornwall is patron. President Granger explained that Iwokrama is considered Guyana's 'green heart' and is at the centre of the country's policy to establish a green state.
He informed the Prince that 85 percent of Guyana's land mass is covered by forests and said the country is positioning itself to take full advantage of this asset in terms of earning carbon credits, boosting its eco-tourism product and overall environmental management. "We are completely committed to combating climate change. We are completely committed to preserving our biodiversity, which is one of the riches in the world. Years ago when Prince Charles accepted patronage of Iwokrama, it led to a lot of prestige for our thrust," President Granger said.
The President clarified, however, that while Guyana is on the verge of transitioning into a green state, it still values the traditional economic sectors such as mining and timber, but his administration is working to ensure that this is done in an environmentally sustainable way. "We still produce gold, rice, timber, bauxite and sugar, they still hold up our economy but we have learnt to balance extraction with environmental preservation" he said.
Prince Henry said that he was impressed at how passionate the Government and people of Guyana are with regard to conservation. He noted that Guyana's commitment to conservation and environmental protection shows that it is prepared to lead by example.
Prime Minister Nagamootoo reiterated the Guyana's warm welcome to the Prince and his delegation to Guyana and that he is pleased that he will have an opportunity to visit the hinterland and experience Guyana's rich diversity.
Minister Greenidge told the Prince that while Guyana is well-endowed in terms of natural resources; its human resources have also proven to be quite exceptional. "Development prospects lies in the careful management of our resources. The plan is to try and enhance our economic prospects in a matter that is consistent with environmental sustainability," he said.
The Minister said that in addition to mineral resources the country is looking at areas like agro-processing and generation of alternative forms of energy such as sun, wind and solar. He said, "We want to ensure that the rural areas in particular can enjoy a higher standard of living."
Minister Lawrence, who will be having further engagements with the Prince on Sunday, spoke of the opportunities that Guyanese parliamentarians have benefited from as a result of collaboration between the Parliament of Guyana and the United Kingdom's (UK) Parliament. "The Public Accounts Committee on which I have served for many years, we have had the opportunity to visit with your Parliament and to interact with persons, who have much experience with public accounts and transparency and I can assure that those interactions have borne fruit in Guyana because we have been able to keep our Public Accounts Committee at a very high level," she said.
His Royal Highness welcomed that news and said he is glad Guyana was able to benefit from that initiative and added that "The tide has turned. The future prospects of Guyana are absolutely fantastic."
Minister Harmon told the Prince that he brings with him the kind of energy and youthfulness that makes it easy for young people to recognise that there is a role for them in the political administration of a country. The Prince assured that he will do his best notwithstanding time constraints to meet and interact with as many young people as possible over the next two days.
Minister Ramjattan used the opportunity to express Guyana's appreciation for the support the country has been receiving with regard to security, while Minister Ally expressed the hope for continued friendly relations between Guyana and the UK.  (MotP)