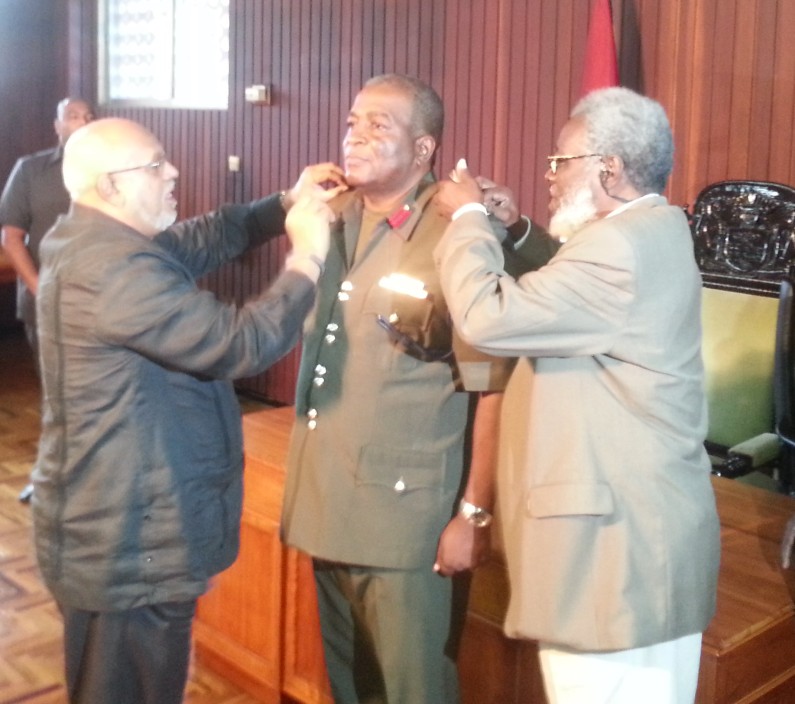 Chief of Staff designate, Brigadier Mark Phillips is promising that professional will be his guide as he gets ready to take command of the Guyana Defence Force.
Phillips was promoted to the rank of Brigadier just one month before he assumes leadership of the army.
At a "badging" ceremony at the Office of the President on Monday afternoon, Brigadier Phillips said the Guyana Defence Force has always been a professional body and he intends to ensure it  remains that way under his command.
He will officially take over the Chief of Staff position on September 16, 2013 as current Chief of Staff, Rear Admiral Gary Best heads off into retirement.
President Donald Ramotar said Brigadier Phillips is reaping the benefits of hard work and dedication and he was pleased to promote him to the new position.
The President also promoted Colonel Bruce Lovell to the rank of Brigadier.
Brigadier Lovell has twenty months remaining before he heads off into retirement. Just after his new rank was unveiled, Brigadier Lovell explained that when he joined the Guyana Defence Force 35 years ago, he never anticipated that he would rise to the rank of a General.
He said he is thankful that the Government has expressed its confidence in him and has found it fit to promote him to the rank of Brigadier General.
Both Brigadier Phillips and Brigadier Lovell expressed thanks to their family and the Guyana Defence Force for supporting them over the years.