The Forward Project, which was previously known as the Goal Project, has been long in the pipeline to come to fruition in Guyana.  However, the wait will continue for those in the fraternity, as it is now  "completely up to FIFA", how the project will progress, according to the GFF President, Wayne Force. 
"So FIFA is doing their part we have done our part as you guys may have heard before it is completely up to FIFA right now to get things going so they understand how important it is to get that project up and running," Forde stated.
Forde made this statement in response to questions surrounding the development of the project after FIFA President Gianni Infantino's visit to Guyana last month.
 Forde  confirmed that there is no change in the expected deadline for the commencement of works at the site which is located at Providence, East Bank Demerara.
"The schedule we have is between the first and second week of June, that's where the projection is pointing so we are still hopeful we can meet that schedule," Forde stated.
Under the Normalisation Committee, the GFF and the Eccles/Ramsburg Neighbourhood Democratic Council signed an agreement that saw the local governing body for the sport receiving a 30-year lease for the 8.5 acres Providence Community Centre Ground.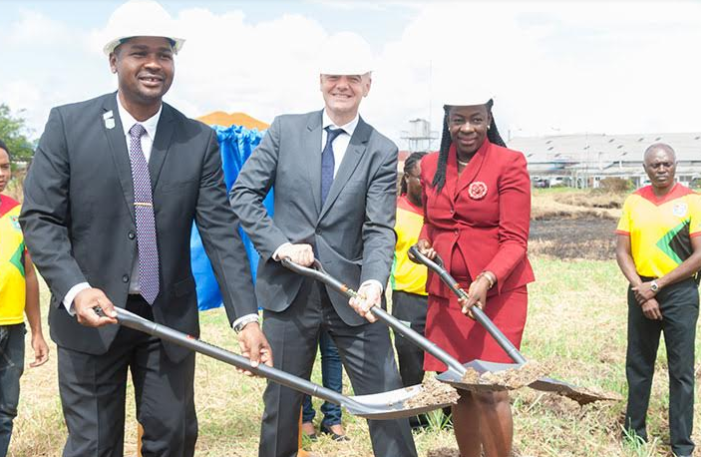 In 2015, construction firm, Dwain Ferdinand and Home Designs and Engineering Associates inked the contract to begin the preparatory work for the project while international Contractors, Greenfield have been identified for the installation of the artificial turf.
While on his visit, Infantino noted that the event will change the landscape of football in Guyana. "Let me just say at the outset here that I'm extremely happy to be here in Guyana today with you for this important ceremony, which will actually, I'm convinced will change the landscape of football in this country but not only football, it will contribute a great lot to the whole society because we know about the values of football, what football can move," Infantino stated.