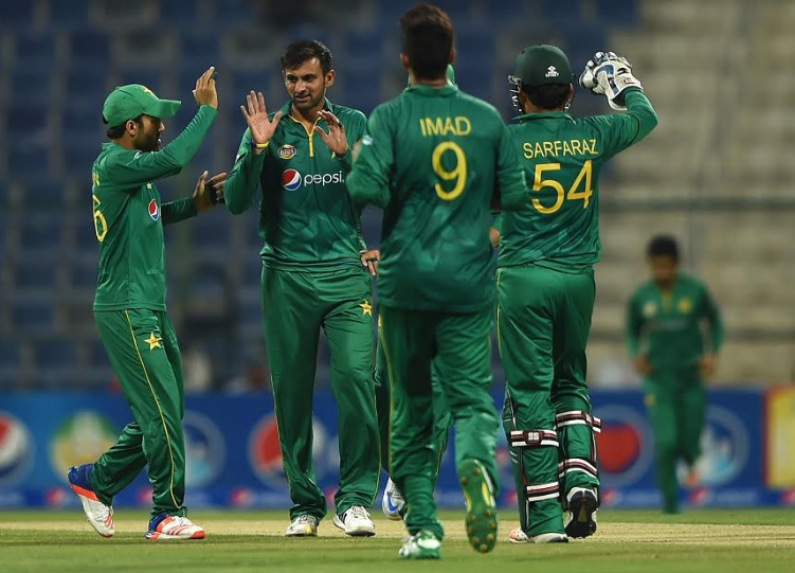 Babar Azam became the third Pakistan player – and eighth overall – to score three consecutive ODI centuries as he top-scored with a 106-ball 117 in Pakistan's commanding 136-run victory over West Indies in Abu Dhabi. The win completed Pakistan's 3-0 sweep of the ODI series and enabled them to displace West Indies at No. 8 in the ODI rankings.
Azam put on a run-a-ball 147 for the second wicket with captain Azhar Ali, who scored a century of his own to become the only Pakistan player to score three hundreds as ODI captain. The top-order hundreds formed the backbone of Pakistan's total of 308 for 6, a score that looked beyond West Indies almost from the start of their scratchy, plodding reply.
West Indies' batsmen got stuck and never approached the run rate required to mount a genuine challenge. By the end of the 30th over, West Indies had soaked up 112 dot balls – as many as Pakistan had faced in their entire innings – and were wallowing in the gloom of impending defeat with the score 119 for 5. Their limp effort continued thereafter as the match drifted towards its inevitable conclusion.
On a flat pitch that became slower and more sluggish over time, the best time for batting was at the very start. Having won the toss, Pakistan batted first – for the third time in a row – and made the most of the good conditions early on, racing along to 36 off the first four overs. Opening bowlers Azarri Joseph and Shannon Gabriel clocked up speeds in excess of 140 kph – Gabriel hit the late 140s several times – but could not quite find the control to match. Sharjeel Khan was characteristically strong square of the wicket, while Azhar showed nice touch, flicking through midwicket, driving down the ground and playing a commanding cut past backward square.
With the spinners continuing to exert the squeeze, Azhar and Azam meandered along, bringing up the team's 100 in the 20th over. But as the partnership got going, the runs began to flow again. Once Azam was set, he found the gaps with increasing ease. Azhar used the sweep and slog-sweep with great effectiveness against Benn. Pakistan's second 100 runs came off just 83 balls.
It was Holder who ended their partnership when Azhar, batting on 101, played a tired heave across the line of a slower ball that clipped the top of off stump. Shoaib Malik was dismissed by Narine next over as West Indies began to pull things back for the second time in the innings, just when Pakistan would have wanted to push on. Azam picked up ones and twos as he approached his century, but, with only three wickets down, Pakistan would have wanted rather more than that.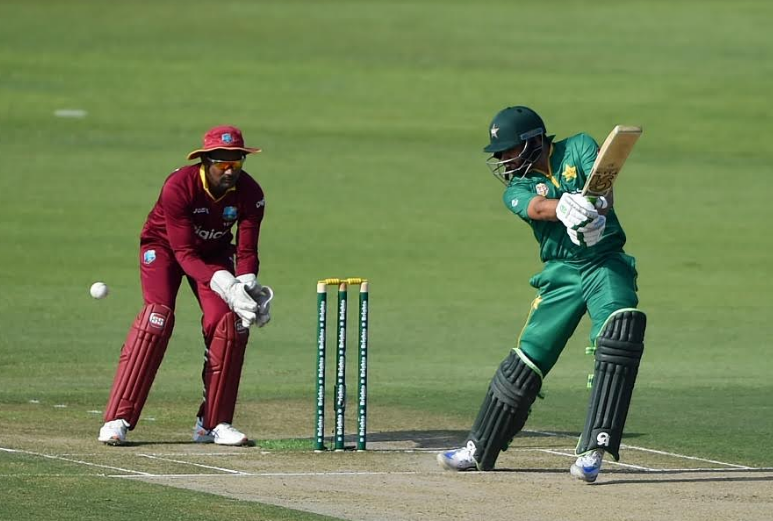 West Indies' openers, Lewis and Kraigg Brathwaite, started steadily, putting on 45 off 56 balls before Lewis, on ODI debut, was bowled around his legs by Sohail Khan. That partnership turned out to be the biggest of West Indies' innings, as wickets fell regularly thereafter. A 42-run sixth-wicket partnership between Holder and Denesh Ramdin was the only other stand of substance, but it came after the match was all but lost. Once Imad Wasim broke that stand, the end came quickly, with the last five wickets falling for the addition of just 13 runs. (ESPN)