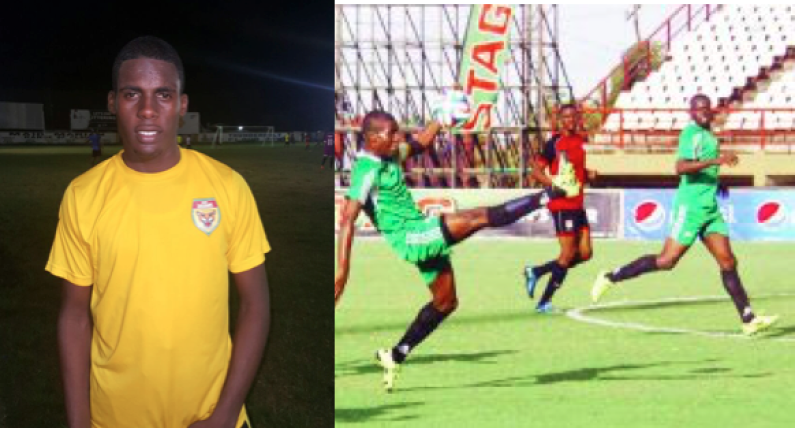 The Sporting Lisbon's Youth Academy which is located in Portugal, has produced the likes of world renowned footballers such as Cristiano Ronaldo, Luis Figo and Nani and now 16 year-old Jeremy Garrett will be heading to the institution in November for a try-out.
The   try-out which was made possible by  Guyanese born, Canadian Hall of Famer, Alex Bunbury , is being seen as a dream come true for the talented footballer.
"I have never dreamed that I would be heading to one of the best youth academies in the world; I will do my best, do the things I have learned at my club Frutra Conquerors and what I have learned with our national team and try to follow the coach's instructions", Garrett disclosed.
The footballer who has donned national colours playing for the   under-17 team was called up to be a part of the training camp of the Senior team in their preparations for the Caribbean Cup, says he is extremely grateful for the support of Mr. Bubury and hopes other young footballers can sees that dreams are possible once they work hard.
"I'm looking forward to use in preparing my career because great players started at the club; I thank Mr. Bunbury for helping me with this opportunity and I hope I can be used as role model for other youngsters see that dreams can come through".
The Chase Academic Foundation Student recently wrote the Caribbean Secondary Examination Council (CSEC) where he acquired eight subjects.
He has now returned to the institution to study for the Caribbean Advance Proficiency Exams (CAPE) and SATs.
He helped his school to hoist the coveted Digicel School's Football tournament trophy this year, with a 3 – 1 win over four-time champions Christianburg Wismar Secondary of Linden.
Garrett is extremely appreciative of the work of principal Henry Chase, who has inspirational behind him keeping focus.
"I thank Mr. Henry Chase for accepting into the school; when I first came he told me that players came to the school but were not focusing on academics, he was pushing me to stay in school and it really paid off", the aspiring physiotherapist disclosed.
Garrett's stint is scheduled to begin on November 23 and should he pass the try-out he will be able to play both the sport he loves and have time to concentrate on studies.
Playing football all the years of my life I have heard complains of lack of help coroporate sector, government it is a great concern to me and I really want to thank   mr bunbary and what his assoction would have done for me and taking the responsibility by himself to help develop the young talents in Guyanas