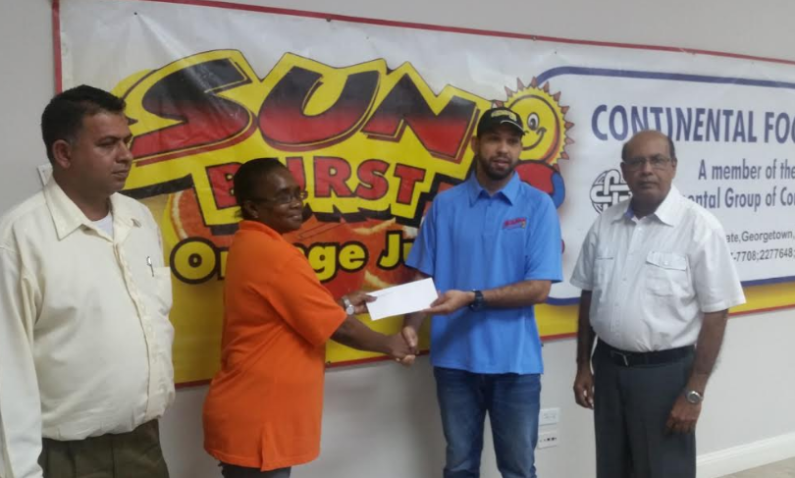 Continental Group of Companies under its Sunburst Juices brand, showed its continued support for Superbike racer Stephen Vieira as the company handed a cheque for an undisclosed sum to the racer at the Company's Head Office in Industrial Site on Friday.
Speaking at the simple presentation ceremony, in the presence of Office Manager Chaitnarine Brijnandan and Confidential Secretary Sharon Blackman, Company Secretary, Mohamed S. Ally, stated that "he has been our ace rider, everyone knows the history behind our sponsorship under the sunburst juice of champions and he has been filling this mandate over the years, we are proud of him and know he will continue to do well and hopefully he regains his championship title at the upcoming meet".
Four-time Caribbean Motor Racing Champion (CMRC) Motor Bike Champion, Stephen Vieira thanked the company for its continued support and said that it will be instrumental in his preparations for the final round of the championships on November 13 at the South Dakota Circuit.
Vieira, who held the pole position in the first two rounds of the CMRC which were held in Jamaica then Trinidad and Tobago suffered a horrid time in the third leg (Barbados) and fell behind Cousin Matthew, who now has 166 points while Stephen has 122.
Quizzed as to how he plans to reassert this dominance, the rider who will be using a Kawasaki ZX-6R, responded saying "for the year it was a bit unlucky, but I feel very confident since I have sorted out everything with the bike; I think Matthew is a very strong here [ South Dakota]; I need to practice and put more seat hours into it and that is what I'm doing right now".
The Continental Group has supported sports in Guyana  in a wide array of areas, these being Motor Racing, Badminton, Football, Table Tennis, Karate, Hockey, Golf and Horse Racing and are currently in support Badminton player and Junior Sportsman and of the year Narayan Ramdhani.