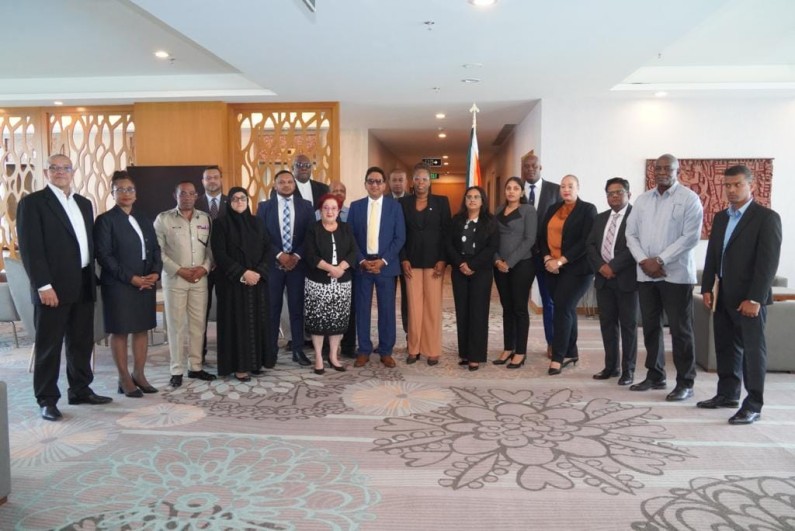 Financial Advisor to the Caribbean Financial Action Task Force (CFATF), Avelon Perry is leading the assessment team that is currently evaluating Guyana's Anti-money Laundering regime.
The Fourth Round of Mutual Evaluation forms an important part of the country's international compliance obligations under the Financial Action Task Force's (FATF) Standards and Methodology.
The CFATF Assessment Team arrived in Guyana over the weekend. Perry, is assisted by Sunita Ramsumir, who is the Co-Mission Leader Legal Advisor of CFATF.
The other members of the Assessment Team are regional professionals in the AML/CFT/CPF Framework including Shana Donavan, Financial Assessor, Cayman Islands; Teron Greenidge, Law Enforcement Assessor, Grenada; Nikala Bazil, Financial Assessor, Dominica and Cassandra Seetahal, Legal Assessor.
In a statement today, the Attorney General's Chambers said the on-site assessment will be conducted from September 4, 2023 to September 15, 2023.
During the evaluation, the team will interview various Government Ministers, officials and heads of agencies including from the Attorney General's Chambers and the Ministry of Legal Affairs, the Ministry of Finance, the Ministry of Parliamentary Affairs and Governance, the Ministry of Natural Resources, the Ministry of Home Affairs, the Judiciary, the Office of the Director of Public Prosecutions and the Office of the Commissioner of Police.
Other agencies which will be engaged during the process include the Guyana Revenue Authority, the Deeds and Commercial Registry Authorities, the Central Bank of Guyana, the Guyana Securities Council, the Guyana Police Force, the Customs Anti-Narcotic Unit, the Guyana Geology and Gold Mines Commission, the Guyana Gold Board, Real Estate Associations, local banks, insurance companies, accountants, cambios, among others.
The Assessment Team held a high-level introductory meeting on Monday at the Marriott Hotel.
The Attorney General, Anil Nandlall; the Minister of Parliamentary Affairs and Governance, Gail Teixeira; and the Minister of Finance, Dr Ashni Singh were among the ministers present.
At the end of this on-site evaluation, a mutual evaluation report will be prepared on Guyana and presented at the CFATF Plenary in March, 2024.