(BBC)  The Venezuelan government and opposition parties are meeting for the first time this year to try to resolve the country's deep political crisis.
President Nicolas Maduro is attending the talks, which are being supervised by a Vatican envoy and other mediators.
The opposition is demanding a referendum be allowed to take place on whether Mr Maduro should step down.
For its part the government wants the opposition to renounce violence and reject right-wing economic policies.
The meeting, at a museum in the west of the capital, Caracas, follows a general strike and huge opposition rallies.
Mr Maduro shook hands with the five opposition leaders who including Jesus Torrealba, the leader of the Democratic Unity coalition.
"There is no alternative to dialogue and meeting in search of the nation's common interests," Mr Maduro said as he arrived.
Vatican envoy Archbishop Claudio Maria Celli urged both sides to engage in serious dialogue to defuse the mounting political crisis.
"The Pope is following the situation of this country very closely and hopes this process can continue peacefully," he said.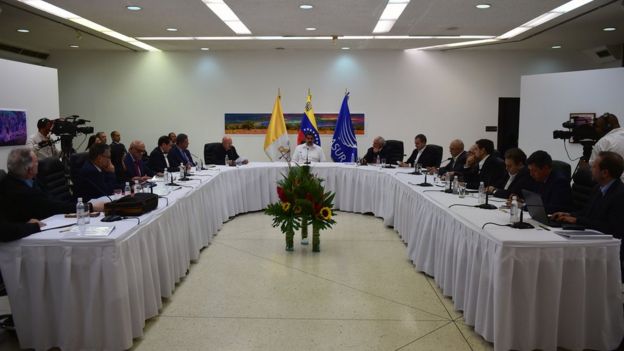 Former political leaders from Spain, Panama and the Dominican Republic are also helping to mediate.
On Friday, opposition leaders in Venezuela organised a general strike to push for a referendum on removing President Maduro from power.
Many shops, businesses and schools stayed closed but adherence to the strike was patchy and poorer areas largely ignored it.
Hundreds of thousands of people rallied against President Maduro last Wednesday, angered that a recall referendum process – an attempt to remove Mr Maduro from power – had been suspended.
Opposition activists had gathered about 1.8 million signatures petitioning for the referendum, 400,000 of which were validated by electoral authorities.
Supporters of President Maduro have also taken to the streets.
The government and opposition are at loggerheads over Venezuela's dire economic problems which have led to food shortages, lack of medical supplies and regular power cuts.
The inflation rate, already the world's highest, is expected to spiral even further next year.