Guyanese Singer and Songwriter Timeka Marshal, has released a sizzling video for her new single "I won't stop" with several breath taking bikini moments in the lush morning and afternoon sun of Portland, Jamaica.
Although the video was shot in Jamaica where she does her studio recordings, the songbird did not fail to give her land of birth full recognition as she displayed her Guyanese nurtured body in a swimwear illustrating the Guyana flag.
The video is full of great Spirit and enthusiasm.
The first scene captures Marshal with two fun loving soca addicted girls in a convertible car driving around and watching the sunrise.
The Director of the video, William Richards explained that the girls were off to the first soca party for the day and saw the other scenes displaying Marshal in carnival costume before a wet and colorful scene is shot with the girls playing 'mass' on a beach.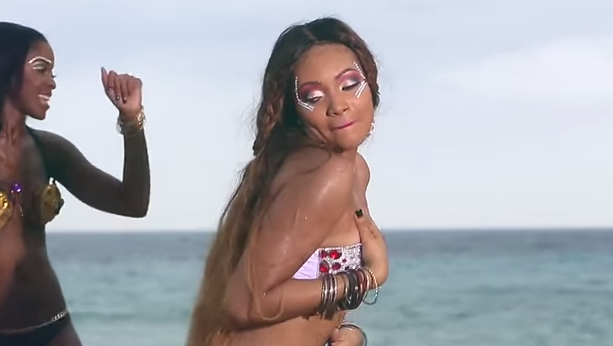 "The song talks about being true to yourself and having a good time, living life to the fullest," Timeka said in behind the scenes video posted two weeks before the official video was posted on YoutTube on Thursday, July 9.
The song was produced by Jamaican DJ Kurt Riley on the Jambe – an Riddim while the video was produced also by Jamaicans Krystia Royes and directed by Richard Williams.
Marshall has spent several years developing her career in Jamaica where she worked with top producers and was able to team up with several Jamaican Artistes, including Busy Signal and Peetah Morgan.
Timeka who is also the CEO of Premium Pink Entertainment regards Jamaica as her second home.
WATCH the new video: https://www.youtube.com/watch?v=AhVQQfvOEls