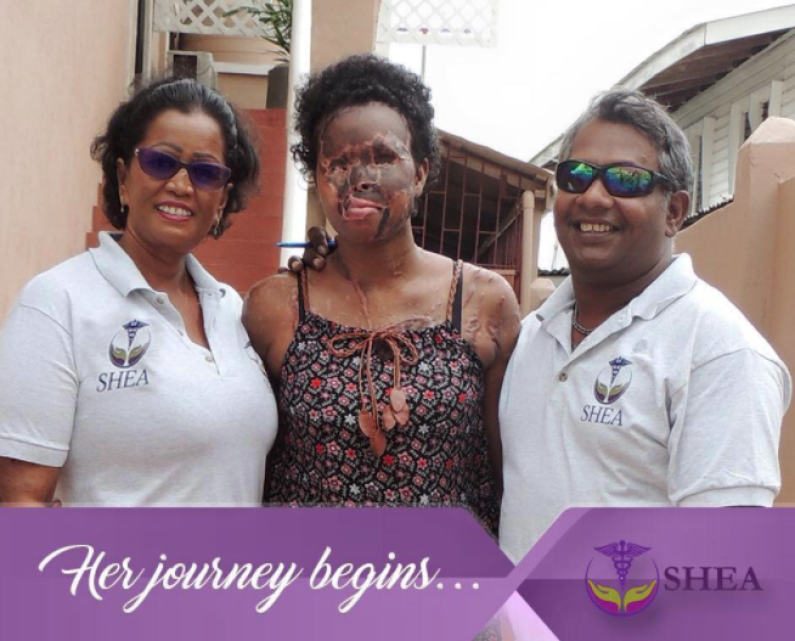 Five months ago, 26-year-old, Shondell Williamson was living life to the fullest. She had just gotten out of a bad relationship and was moving on with her children.
On the night of January 19, Shondell's life was shattered as she was doused with acid by the man she once loved and shared a long relationship with. She suffered varying degrees of burns to her face and became unrecognizable as she recovered.
Today, she is trying to put the pieces back together of her old life and thanks to the Shea Company in Guyana and other groups and supporters, a major step in getting her life back is about to take place.
Shondell left Guyana on Tuesday for the United States.  She is expected to spend months at a medical facility undergoing several surgeries to her face.  She knows that she will never get her old face back, but she is grateful for the opportunity to make her life a little better.
Through the Shea company, a campaign was launched to raise money to assist Shondell with traveling and other expenses associated with the surgery.
Donations are still being accepted. The GoFundMe page for Shondell could be found at www.gofundme.com/saveshondell  The page has raised just over US$15,000 of a $US30,000 target.
The young mother is confident of the efforts to save her sight and assist her in getting her life back on track. She said after the attack, she was most hurt by her two young children being afraid to go to her. She hopes all of that will eventually change.