Acting Police Commissioner Clifton Hicken has called on Police Regional Commanders from across the country to put their "houses in order", reminding them that they are accountable for the officers and ranks under their command.
Mr. Hicken met and held talks with the Commanders yesterday and told them that he does not want them to micro-manage their divisions, but rather they need to have a hands-on and effective approach to management.
In a statement on the meeting, the Guyana Police Force also said that the Commanders were told by the Acting Top Cop that there is the need for a much higher level of cohesion and teamwork in the overall command structure of the Guyana Police Force.
He said every effort will be made to have a more cohesive command structure whereby all the commanders are working in unison as 'one body' with a common purpose to serve and protect.
"I want a cohesive command structure as we cannot work in isolation. So don't allow the minority to blind the vision of the majority. If you want to swim against the tide you will swim alone," the Top Cop declared.
The Police Commanders have also been told to ensure that they go out into the communities in their respective divisions and interact with the residents and get to know them and understand their challenges.
He also said standardization is necessary in order for the Police Force to achieve this cohesiveness at the commanders' level.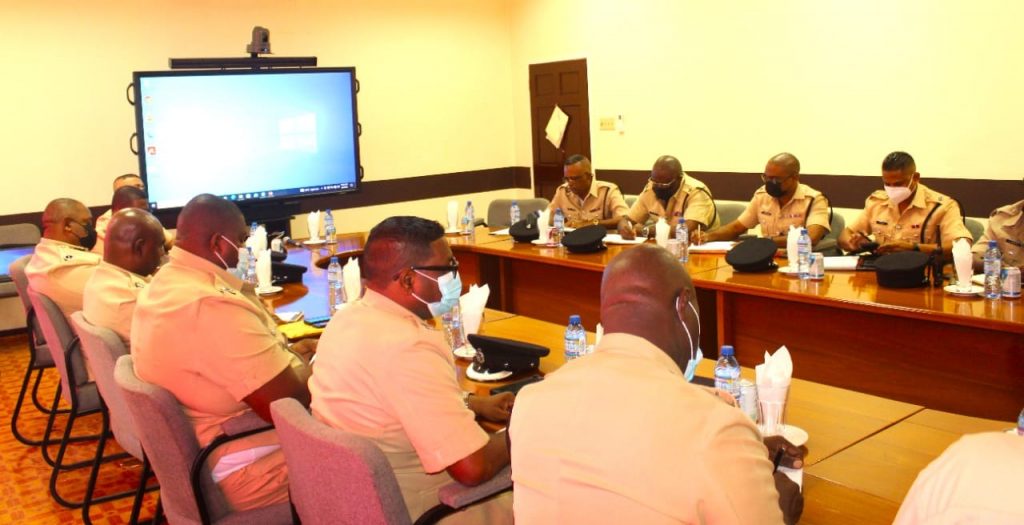 "And so, gone are the days when you're going to have one commander with all the knowledge and the other commanders searching for knowledge. We don't want a half-balanced Police Force. We want all the commanders to be doing the same thing across the spectrum. And so commanders will communicate more often than ever and learn from each other's experiences and best practices," Mr. Hicken said.
The Acting Police Commissioner reminded the Commanders that they are in a position of leadership and must therefore lead in an effective manner.